Amazon Accused Of Intimidating Workers After Warehouse Votes To Not Unionize
The union has claimed that Amazon "illegally interfered" in the vote by creating an "atmosphere of confusion, coercion and/or fear of reprisals."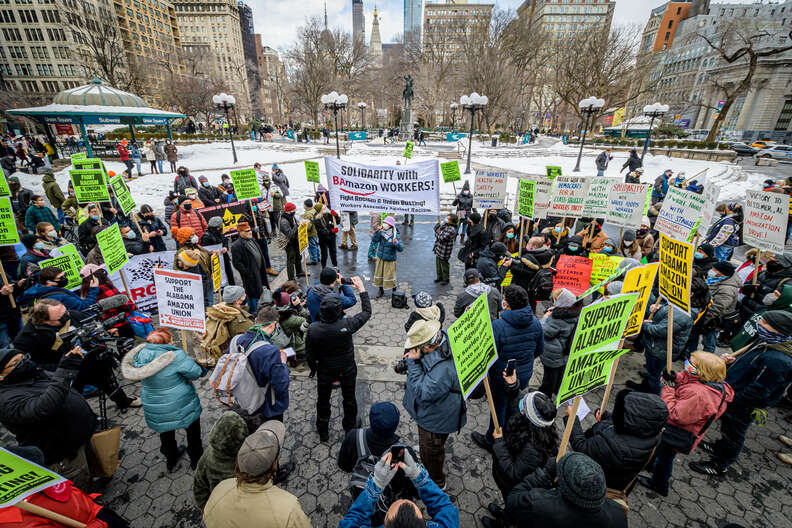 Amazon warehouse workers in Bessemer, Alabama, voted against unionizing on Friday. Per NPR, the "no" votes on the union drive outnumbered votes for unionization 1,798 to 738.
The Retail, Wholesale and Department Store Union (RWDSU) since announced it plans to file a legal objection against Amazon, accusing the tech giant of gaslighting its employees after workers at an Alabama-based warehouse voted not to unionize. The union is requesting a hearing before the National Labor Relations Board, the independent federal agency that reviews labor cases and complaints. Reuters reported that the dispute will likely continue in front of the NLRB and a federal appeals court.
Nearly 6,000 people work at the warehouse in Bessemer, which has a more than 70% Black population. Mail-in voting started in February and ran through March 29.
The organizing effort became an unexpected national story in recent months, drawing a massive amount of attention from President Joe Biden, labor leaders, left-wing political activists, and media outlets onto the small Alabama town.
The RWDSU has claimed that Amazon "illegally interfered" in the union vote by creating an "atmosphere of confusion, coercion and/or fear of reprisals" that affected employees' "freedom of choice."
"Amazon has left no stone unturned in its efforts to gaslight its own employees. We won't let Amazon's lies, deception and illegal activities go unchallenged," RWDSU President Stuart Appelbaum said in a statement.
Amazon rebuffed the claims that it interfered in the union vote, saying in a statement that there has "been a lot of noise over the past few months" and that employees are the "heart and soul of Amazon." The company has a long history of successfully staving off organizing efforts, and the Bessemer union drive was described by many in the media as the most formidable challenge to the tech & retail giant in its history.
During the latest drive, the company reportedly sent text messages urging workers to use a mailbox on-site by March 1, even though the deadline for votes was much further out, and the NLRB denied the company's request to require in-person voting.
"It's easy to predict the union will say that Amazon won this election because we intimidated employees, but that's not true," Amazon wrote in a statement. "Our employees heard far more anti-Amazon messages from the union, policymakers, and media outlets than they heard from us.
Earlier this week, the New York Times reported the NLRB found Amazon's firing of Seattle-based UX designers Emily Cunningham and Maren Costa in 2020 was illegal. Cunningham and Costa had petitioned for better working conditions at Amazon warehouses and repeatedly called on the e-commerce giant to take steps to combat the climate crisis. The Washington Post reported in January 2020 that Amazon told the employees they had violated its communications policy by speaking out about the business.
Several advocates and Democratic leaders expressed their disappointment in the failed union efforts at Amazon, including Vermont Sen. Bernie Sanders (I) who said he was "disappointed but not surprised by the vote."
"It is extraordinarily courageous for workers to take on one of the world's wealthiest and most powerful corporations, a company that spent unlimited sums of money to defeat the organizing effort," Sanders continued. "Workers should not be intimidated, or badgered by a company because they are exercising their constitutional right to form a union."
Last month, Rev. William Barber, a prominent religious leader and civil rights activist, spoke in support of the unionization effort, saying, "Bessemer is now our Selma."
Natalie Daher contributed to this report.