Amazon and Instacart Workers Are Striking For Better Coronavirus Protections
People who make deliveries of necessary supplies have come to be viewed as front-line, "essential" workers during the coronavirus pandemic.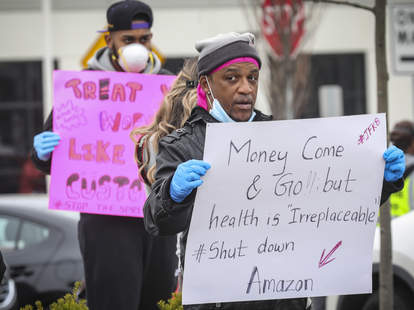 Workers at Amazon in New York City and grocery delivery service Instacart nationwide went on strike Monday to demand better protection and pay, as they've now come to be viewed as "essential" workers during the coronavirus pandemic.
The demonstrations come as more people across the country are staying home and instead relying on delivery for household necessities, including cleaning products and food, as confirmed COVID-19 cases in the U.S. continue to skyrocket. Some of the workers' demands include more paid sick time and better precautionary measures to reduce the risk of infection.
The labor strikes also come after Instacart announced plans for mass hiring, and Amazon announced a goal of 100,000 new hires in its warehouses across the U.S. to keep up with rising online order demands. 
Workers at Whole Foods, which is owned by Amazon, have also planned a "sickout" for Tuesday, and their demands include paid sick time and immediate shutdown of any site where a COVID-19 case is confirmed.
"COVID-19 poses a very real threat to the safety of our workforce and our customers," reads a petition on Coworker.org. "We cannot wait for politicians, institutions, or our own management to step in to protect us."
By 2 p.m. Monday, Amazon workers at its fulfillment center in Staten Island, New York, appear in a video walking out, with some holding signs. Organizers have told multiple media outlets that at least 50 people participated in the demonstration, while Amazon has said 15 people participated.
The Amazon strike came as workers said multiple people at the Staten Island warehouse have tested positive for COVID-19, and others across the country have reportedly been first hearing about infected coworkers through rumors rather than the company. Workers want the warehouse to be closed for cleaning and to be paid during that period. Amazon called the claims "simply unfounded" in a statement to ABC.
Ahead of the Instacart walk off, shoppers and the Gig Workers Collective said in a Medium post published on March 27 that they're asking the company for personal protective equipment at no cost and an additional $5 in hazard pay per order, among other terms. 
"Instacart has turned this pandemic into a PR campaign, portraying itself the hero of families that are sheltered-in-place, isolated, or quarantined," the post reads. "Instacart has still not provided essential protections to Shoppers on the front lines that could prevent them from becoming carriers, falling ill themselves, or worse."
Instacart responded with its own Medium post, saying the company is offering 14 days of sick pay for hourly employees or full-service shoppers who are diagnosed with COVID-19 or in quarantine until May 8. The company pointed to other measures, including contact-free alcohol delivery and in-app incident reporting, and announced Sunday that it would provide more health and safety supplies including hand sanitizer to workers.  
The workers again responded that the strike was still on, and identifying some holes in the company's response.
"Hazard pay went completely unaddressed," the post reads. "The average pay per order is well under $10. Workers should not be risking their lives for pocket change."
This story has been updated to reflect information from Amazon.