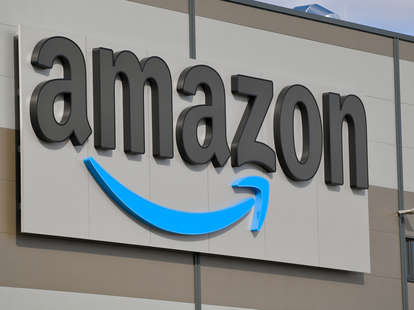 Getty Images
Getty Images
Amazon fired three workers last week who spoke out about the company's warehouse conditions during the rapidly spreading coronavirus outbreak.
Two Seattle-based employees who also spoke out against the company's response to the climate crisis were fired on April 10 for denouncing workplace conditions, the Washington Post first reported. Another worker in Minnesota was terminated last week after he was involved in workplace organizing, according to BuzzFeed News.
The employees join politicians, unions, and others who have demanded Amazon create a safer environment for employees who are working to fulfill an uptick in deliveries.

Amazon confirmed the terminations in an email to NowThis. One of the fired Seattle employees, Emily Cunningham, confirmed her termination on Twitter nearly three weeks after she offered to match up to $500 in donations for warehouse workers. The other employee was Maren Costa, who has retweeted Cunningham's criticism of the company.
Separately, Amazon confirmed on Tuesday that it fired Bashir Mohamed, a worker at a Minnesota warehouse who had repeatedly called for safer working conditions. Amazon reportedly told Mohamed that he was fired for refusing to speak with his supervisor, and while Mohamed hasn't refuted the allegation, he did accuse his supervisor of unfair treatment. (Amazon has not responded to an inquiry about that allegation.)
"We respect the rights of employees to protest and recognize their legal right to do so; however, these rights do not provide blanket immunity against bad actions, particularly those that endanger the health, well-being or safety of their colleagues," a spokesperson for Amazon told NowThis. "This individual was terminated as a result of progressive disciplinary action for inappropriate language, behavior, and violating social distancing guidelines."
The news comes after the company fired worker Chris Smalls, who led a strike at a Staten Island warehouse over safety concerns. Amazon attributed Smalls' termination to violating safety regulations, including not self-quarantining for 14 days after being exposed to a coworker infected with COVID-19, which Smalls called "ridiculous."
Smalls' firing attracted criticism from New York Attorney General Letitia James and former presidential candidate Cory Booker. Booker, along with Sens. Robert Menendez, Sherrod Brown, Richard Blumenthal, and Kirsten Gillibrand sent a letter to Amazon CEO Jeff Bezos questioning the company's decision. Last month, New York City Mayor Bill de Blasio also ordered the city's Human Rights Commission to open an investigation into Smalls' firing.
Amazon employees have staged walkouts across the country in recent weeks over concerns about being infected with coronavirus on the job. Dozens of Amazon warehouses have confirmed COVID-19 cases, according to the Athena coalition, which focuses on labor rights at Amazon.