Amazon Violated Law By Firing Workers Who Were Critical Of Company, Report Says
The decision comes as labor advocates await the results of a closely-watched union warehouse vote that could change the course of company history.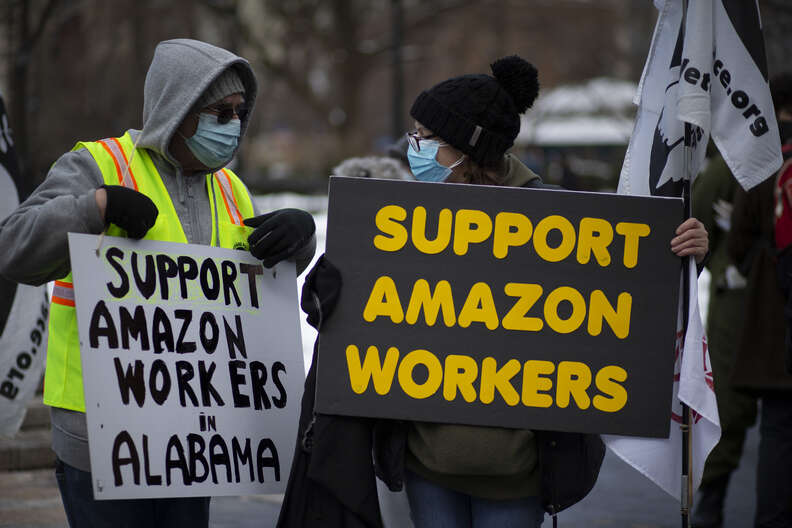 Amazon violated labor law by firing two employees who criticized the company's treatment of workers as well as its response to the climate crisis, according to a National Labor Relations Board (NLRB) decision reported in The New York Times.
The Times on Monday reported that the NLRB, the independent federal agency that reviews labor cases and complaints, told former Amazon employees Emily Cunningham and Maren Costa that it would "accuse" the e-commerce giant of "unfair labor practices if the company did not settle the case, according to correspondence that Ms. Cunningham shared" with the publication. Amazon fired Cunningham and Costa in April 2020.
The two women worked as user-experience designers at the Amazon headquarters in Seattle and were part of a group called Amazon Employees for Climate Justice since 2018. In April 2019, the group published an open letter to founder and CEO Jeff Bezos and the board of directors, calling on the company to step up its efforts in mitigating the climate crisis; more than 8,700 colleagues signed on.
Before and at the beginning of the pandemic, Cunningham and Costa "circulated petitions from warehouse workers seeking improved safety conditions and policies, helped organize video conferences in which warehouse workers could share their experiences with Amazon's tech and corporate employees and called for employees to take a sick day in protest," according to The Seattle Times.
The Washington Post reported in January 2020 that Amazon told the employees they had violated its communications policy by speaking out about the business.
What has the response to the firings been?
At the time of their firing, Tim Bray, a vice president at Amazon's cloud computing division who was considered one of the company's top engineers, resigned in protest. Calling it "the best job I've ever had," Bray said the firings were "evidence of a vein of toxicity running through the company culture."
Lawmakers also took notice of the firings; a group of nine Democratic senators wrote Amazon a letter in May 2020 asking for more information on the terminations to see if it constituted retaliatory action or not. Sen. Elizabeth Warren (D-MA), the lead signatory on the letter and a frequent critic of Amazon, tweeted her reaction to the NYT report on Monday:
Bray told the New York Times that he was happy to hear the NLRB's judgment and that "this is [Amazon's] chance to rethink" their policy of "admit nothing, concede nothing."
What about that union drive in Alabama?
Meanwhile, fair labor advocates are awaiting the results of an Amazon warehouse unionization vote this week, which could lead to the first-ever unionized warehouse at America's second-biggest employer behind Walmart.
Almost 6,000 workers in Bessemer, Alabama, which has a more than 70% Black population, voted on whether to organize with the Retail, Wholesale and Department Store Union (RWDSU). Voting concluded on March 29 and the national labor board is counting the ballots. Even President Joe Biden waded into the high-profile fight, putting out a historic statement condemning union-busting practices and supporting workers' right to organize in early March.
An NBC News analysis of NLRB documents found that at least 37 charges have been filed against Amazon since February 2020, a sharp increase from 2018 and 2019, as the company experienced a pandemic-related business boom and expanded its workforce (and pressured/overworked employees, according to their complaints). In comparison, Walmart had eight charges filed against it since Feb. 2020, NBC reported.
"The number of similar charges filed against Amazon over the last year has become significant enough that the NLRB is considering whether the 'meritorious allegations warrant a consolidated effort between the regions,'" or essentially a nationwide investigation, NLRB spokesman Nelson Carrasco told NBC.
While the company has not yet commented on the NLRB filings or judgment, Amazon separately apologized on Friday for claiming from an official Twitter account that reports of workers having to pee in bottles on long shifts was not true.
"[W]e know that drivers can and do have trouble finding restrooms because of traffic or sometimes rural routes, and this has been especially the case during Covid when many public restrooms have been closed," the company blog post read, calling it "a long-standing, industry-wide issue" that is not "specific to Amazon."
The original tweet in question from the Amazon News account came in reply to Rep. Mark Pocan (D-WI), another outspoken critic of the company.
"You don't really believe the peeing in bottles thing, do you? If that were true, nobody would work for us," the tweet read.
"This was an own-goal, we're unhappy about it, and we owe an apology to Representative Pocan," the company post read Friday.