What Is Going On With the Saudi Prince and Jeff Bezos' Phone?
The Amazon CEO has been entangled in a messy scandal over sexts leaked last year.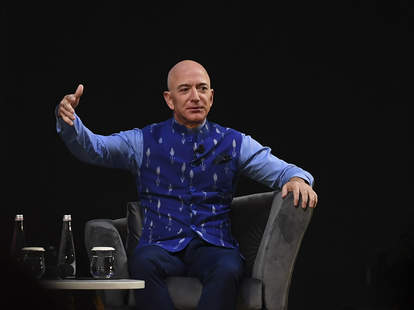 United Nations experts are calling for an investigation of alleged Saudi involvement in the hacking of Amazon CEO Jeff Bezos' phone through a WhatsApp account.
This is all part of ongoing drama between the richest man in the world (who also owns the Washington Post) and a foreign government that has been accused of suppressing critical press.
The UN statement followed a forensic audit that Bezos commissioned, which found his phone was likely hacked in 2018 by a WhatsApp account associated with Saudi Arabia's Crown Prince Mohammad bin Salman, the Wall Street Journal reported last week. The Saudi embassy has called the hacking accusations "absurd."
Bezos' investigation found that he likely clicked on a piece of malware—in the form of an infected video file— from Prince Mohammad via WhatsApp in 2018, according to the Guardian. Further analysis found it was "highly likely" that the malware was used to exfiltrate Bezos' data. It's unclear what exactly the Prince or other Saudi affiliates could have taken from the phone.
The hack in question preceded Bezos' well-publicized affair with news anchor Lauren Sanchez, which made headlines after the National Enquirer published Bezos' leaked sexts. The outlet reportedly bought the sexts from Sanchez's brother Mark for $200,000.
In February 2019, Bezos published a Medium post about the leaked sexts, mentioning potential Saudi involvement with the American tabloid, which has been underscored by past reporting. In the post, Bezos accuses American Media Inc., which publishes the National Enquirer, of "extortion and blackmail."
Bezos owns the Washington Post, which has published pieces critical of the Kingdom by authors including journalist Jamal Khashoggi, who was murdered in 2018. The CIA has concluded that Prince Mohammad's ordered Khashoggi's assassination in Istanbul, and five people were sentenced to death for his killing late last year.  
"The hacking of Jeff Bezos is in a different league," Agnes Callamard, one of the United Nations experts, told the New York Times. "He is not a Saudi citizen. He is a person of strategic interest, and his hacking appears to have been driven by his ownership of The Washington Post."
Saudi investors and the Kingdom's Royal Family, which has amassed more than $1 trillion in wealth through oil revenue, have financially contributed to Silicon Valley companies including Twitter, Uber, and Slack. Bezos reportedly had dinner with Prince Mohammad in Los Angeles in 2018 during a three-week U.S. tour. 
In light of Bezos' allegations, Democratic lawmakers are reportedly asking the National Security Agency (NSA) to examine Trump administration officials' communications with the Saudi government, some of which could have taken place over WhatsApp.
Since the killing of Khashoggi, the Trump administration has maintained positive relationships with Prince Mohammad despite scrutiny in the media and by Democrats. Prince Mohammad has meanwhile been credited with progressive reforms, including lifting a decades-old ban on Saudi women's right to drive, but activists have cautioned against how much progress the reform represents.