Biggest U.S. Airlines Will Require Face Masks For Passengers
The new requirement from American, Delta, and United airlines follow JetBlue's announcement earlier this week.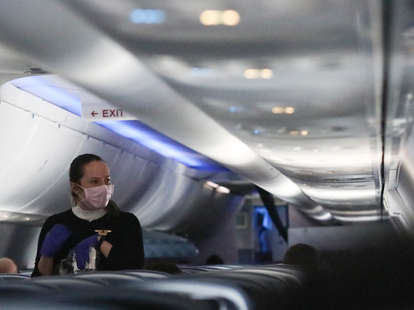 Getty Images
Getty Images
Several major airlines in the U.S. are now requiring passengers and employees to wear facemasks during their flights.
American Airlines, Delta Airlines, and United Airlines have followed JetBlue, which announced its new mask policy on Monday. Frontier Airlines announced the same requirement on Thursday.
The latest rules are in line with the CDC's recommendation of wearing a face covering in public to help slow the spread of coronavirus. In the U.S., cases of COVID-19 surged past 1 million this week and account for about one-third of the world's cases.
While the airline companies are requiring passengers to wear face coverings on their own, the Federal Aviation Administration has not issued a blanket regulation. The FAA has said it expects air carriers and crew members to comply with CDC guidance.
United, Delta, and JetBlue's policies requiring masks are expected to start May 4. American Airlines' policy will start May 11. United wrote on its website that the company will provide masks for customers who do not have them.
United and Delta will also block the middle seat from being used, ensuring that passengers can remain farther apart.
In the past few weeks, photos of packed planes have been shared on social media, showing people sitting next to each other without facemasks. One Twitter user shared a video of a nearly full American Airlines flight on April 25.
The president of the Association of Flight Attendants-CWA, Sara Nelson, shared another photo of a full plane on April 26.
The AP reported that air travel is down by 95% from a year ago, adding that the average domestic flight now has about 17 passengers.