Amid Protests, This Social Club Offers Space for Black Community to Heal and Grieve
Ethel's Club, a social club for people of color, is offering free healing sessions online as it grows its virtual community.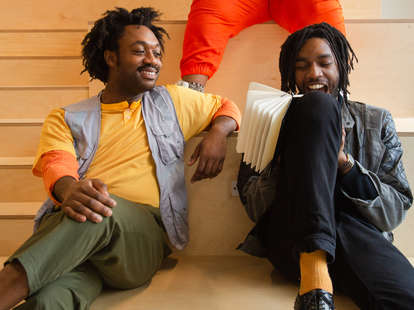 Protests against police brutality following the deaths of Ahmaud Arbery, Breonna Taylor, and George Floyd have forced the U.S. to grapple with its history of systemic racism. But hand in hand with this outcry, Black communities are also taking time to heal.
Naj Austin and her team at Ethel's Club, a social and wellness club for people of color, have begun offering free virtual healing and grieving sessions to Black people, both members and non-members, as of early June.
"It was intense. It was powerful to see that many Black people in one space," Austin said of the first healing session, in an interview with NowThis. "There was a lot of crying. There was a lot of fear. But I think that people appreciated having a space to unburden."
It was Austin's own search for a therapist of color and memories of her grandmother Ethel Lucas—a matriarchal figure who welcomed the whole neighborhood into her home—that prompted Austin to open Ethel's Club in November 2019. The heart of the clubhouse in East Williamsburg, New York has always centered on wellness and community.
When the team temporarily shut the doors of its physical clubhouse in March at the height of the COVID-19 outbreak, it quickly built up a virtual community.
"I had always planned on having a digital experience. I had no idea what it meant at the time," said Austin. "Obviously, COVID sped up that timeline a lot."
In addition to the club's two-tier membership—which boasted 300 members as of the day the physical location closed—Ethel's now offers a digital membership for $17 a month. At the time of publication, Austin confirmed that 1,000 people have already joined.
Digital members have access to programming three times a day: a morning wellness session with health practitioners, a midday creative and career-focused session, and an evening inspirational session. Over the past few months, members could tune into live DJ sets, podcasting workshops, a dinner conversation series, and a cannabis kickback event. Members can also join a variety of groups, including a book club, a design club, and a writers' club; have conversations with one another regularly on Ethel's digital platforms; and access some 200 therapists of color virtually.
This comes at a time when the Black community faces the triple crises of the coronavirus—which has disproportionately affected Black Americans—record unemployment, and continued police brutality. Black mental health practitioners have reported spikes in demand for their services.
"We've been given this blessing in disguise where we've been able to reach and connect with a lot more people and learn about what they're looking for, what's missing from their lives, how can we be that company," Austin explained.
Amid nationwide protests, Ethel's Club built something even bigger than its founder expected. While it initially opened three free healing sessions that could each accommodate 80 attendees, the team maxed out, welcoming 1,600 attendees in total across the events.
The first event included a guided meditation, group song, and a licensed therapist providing tools and resources to navigate complex emotions. Austin explained that Black members of her generation are embracing the need to address mental health as part and parcel of the fight for justice.
"You never hear stories about how Angela Davis, Malcolm X, Martin Luther King took a breather… how they [needed] to decompress," she said. "Finding rest is a form of resistance in its own way. Finding time to center yourself is also a form of fighting back, because we don't get that often."
Ethel's Club plans to host more free healing sessions in the coming months, as well as continue to find therapists of color across the country (and the world) for members to access.
Since the healing sessions have become available, the response has continued to be overwhelmingly positive. One person commented on their latest session announcement, "You've been such an anchor during such an incredibly difficult time." Another simply wrote, "Thank you for your existence."
For those interested, the Ethel's Club digital membership is open. The team is also accepting contributions to help fund artists, creators, and health practitioners working with Ethel's.