Aubrey Plaza, Amy Poehler Reunite as April Ludgate, Leslie Knope on "SNL"
The show returned from a multi-week hiatus with Plaza serving as host, alongside musical guest Sam Smith.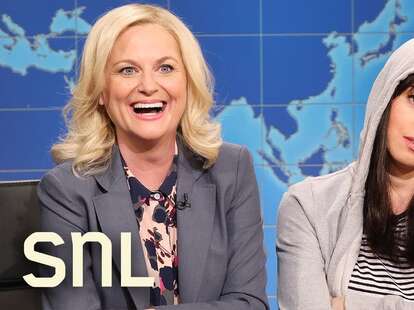 Photo Credit: Saturday Night Live / NBCUniversal
Fans of the classic NBC sitcom "Parks and Recreation" were in for a treat the size of a child's soda if they tuned into this weekend's newest episode of "Saturday Night Live."
During the show's Weekend Update segment, host Aubrey Plaza reprised her iconic character of April Ludgate, the sarcastic young staffer in the Pawnee parks department. She was also joined in a surprise cameo by former "Parks" and "SNL" star Amy Poehler, in character as Leslie Knope.
Watch below:
The unexpected "Parks and Rec" reunion wasn't the only highlight of the "SNL" telecast. The show also featured several other cameos from prominent individuals. In one digital short, Plaza took a turn as the "2.0" version of M3GAN, the killer doll designed by "Girls" and "Get Out" star Allison Williams. And, during the show's opening monologue, Plaza also got a very specific "White Lotus" video shoutout from none other than her fellow Delawarean, President Joe Biden.
Watch both those clips below: