Analysis: Why Issa Rae's Production, "What Say What?!" is Exactly What TV Needs
Jahbrielle Henning-Rayford and Sam Hicks break down the significance of the online special, which centers on Black ownership, and why they look forward to infusing the future of entertainment with new synergies.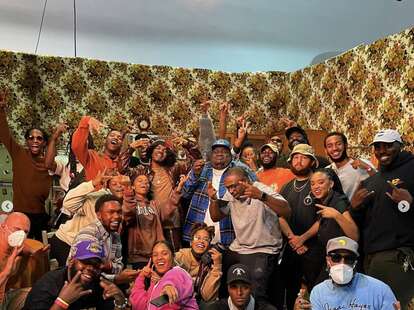 As Ava DuVernay once noted, "If you're doing something outside of the dominant culture, there's not an easy place for you. You will have to do it yourself."
Presented by Hoorae, Issa Rae Presents, and hosted by comedian Teddy Ray, the online special "What Say What?!" is a digital testament to this.
In 2021, major Hollywood studios have shown little progress in making room for Black-led production crews to tell Black stories. According to a study conducted by McKinsey, less than 6% writers, directors, and producers of American films are Black. In some categories, such as superhero films, that percentage is even lower.
Yet, a number of films and TV shows by Black creators are continuing to push the genre forward. The forces behind "What Say What?!" which transports viewers to comedian Teddy Ray's childhood home in St.Louis, Missouri, for a rare interview with singer and rapper Smino, is one example of a show whose creators are redefining storytelling and increasing representations across screens.
Not only do YouTube viewers get a glimpse into the inside world of Smino, but they also experience a rare and intimate performance of his hit songs "I Deserve" and "Black Aint Dead." Smino recently made headlines for the release of his latest album "Luv For Rent," and previously reached the Billboard 200 for his album titled "NOIR."
In his latest appearance on "What Say What?!" Smino, née Christopher Smith Jr., gets personal about the profound emotions that went into the creation of the album. In the episode, Smino tells Ray of the album, "It's based on different types of love … It could be bad love, petty love, obsessive love, real good love, family love. But it's just about the different ways I lent out my heart to the point where I didn't have enough left for myself."
The special, which launched on December 7, has already surpassed 467,000 views, received accolades on social media, and sparked internal talks of turning the special into a series led by the HOORAE and Zero Fatigue teams.
The project is also one that resonates with its creators on multiple levels. As creatives, "What Say What?" cinematographer Sam Hicks and director Jahbrielle Henning-Rayford recognized early on that it was less about finding a seat at Hollywood's table, and more about constructing one's own table built on authenticity and storytelling.
In an interview with NowThis, the creators shared the importance of the show in blending genres and formats, increasing Black representation in film and TV, and serving as a coalescent force to build community among Black storytellers.
How creativity and personal ambition drive industry change
From young ages, both Henning-Rayford and Hicks displayed a passion for artistry and imagination. Through a combination of talent, hard work, and drive, the pair each worked their way up within the industry as a director and cinematographer, respectively.
For both creators, the recent special is a culmination of their work ethic and a visionary approach that seeks to meld genres in an entirely new way.
As Henning-Rayford describes to NowThis, "What Say, What?! is this beautiful blend of the comedy and hip hop world, which have long had a strong relationship. You can look throughout time and see these great music artists who keep comedians by their sides," she says, adding, "Denita Turner who's on Smino's team came up with the concept alongside Smino himself."
Denita Turner is Smino's longtime manager who has been with him throughout his signing to Motown Records, and has assisted in helping to bring his creative ideas, like "What Say What?!" to life.
"He's hilarious," Henning-Rayford said of Smino, "But what people don't also know is just how much of a music lover he is, so it's a perfect blend of those two worlds.
"As more episodes come out, we want to just continue to elevate that part of it [comedy and hip-hop] and blend those two worlds," she added.
For Hicks, who is originally from Mississippi and discovered his passion for photography as a blogger before pursuing cinematography full time, the project serves as a blueprint for future film and television shows combining formats and genres – unapologetically.
"The industry will start coming to you when you are organically creating," Hicks says about the importance of challenging the status quo through original work. "Then your percent of leverage is different, which is important."
The importance of Black storytellers telling stories about the Black experience
For Hicks, the project bears special significance. The familial connection he experienced with the other cast and crew members on set was a unitive experience, he recalled.
"I think I would say this because of the team and the talent, which is a part of the team. Working with Jarden O'Connor, a Black producer, added so much value," Hicks said. "While we were on set, it was literally like a family union."
According to Hicks, this unity was the result of the community that the project's creators fostered as an all-Black cast and crew who understands the collective mission of the project.
This vision also resonates with Hicks' personal purpose to tell Black stories as a Black creator, without seeking the approval of streaming giants and major Hollywood production houses.
"I believe if you can change yourself within, you can change the industry," Hicks said. "So I'm not looking for the industry's permission at all."
Henning-Rayford agrees that carving her own lane is the key to breaking old paradigms and normalizing everyday Black stories outside of the Black trauma traditionally portrayed in film and TV.
"We need to create our own because we can and it's possible," she said. "Years from now, we won't be in a place where we're asking, 'Where are the Black stories?' I want us to get out of that loop."

On Ownership and Reclamation
Henning-Rayford also emphasized the importance of ownership and reclamation as the connective thread in Black storytelling.
"The thing about it is that above all, at the end of the day, you know, we're human beings. And I think for our existence in this part of the world, you know, because of the trauma of enslavement and the uprooting of us, other people have come to define us," she said.
With this in mind, both creators have been working arduously to elevate and share impactful stories. Sam has done so by developing his company, known as Assemble, which he describes as a forum where "Black executives, Black creators, Black professionals have courses where they sit you down and talk about how they got to the top of their game."
Outside Assemble, Hicks is breaking down doors in another industry that is often less discussed within the context of representation and opportunity, the camera rental space. In 2020, Hicks launched his own film equipment rental company.
"Just being creative is one thing," Hicks said, "But production takes a lot of different companies that enable a production to be successful and happen. And I didn't see a lot of camera companies that were Black-owned camera rental companies."
Henning-Rayford added, "There have been these boxes created of what should be or should not be … And Black people, we have a special magic and it's evident in the joy and the glory that we've brought to the planet."

Looking ahead: The possibilities are endless for the future of filmmaking
Like Sam, Henning-Rayford is also working to develop her own business ideas and projects within the industry.
"I'm currently working on another music show with Raedio, which is Issa's music label. And I'm also putting together a documentary love letter to Black folks, specifically Black men and women who have locs. I'm going to continue to move into the music space, do some music videos, and work on my short film."
Ultimately both Sam and Jahbrielle are inspired by the possibilities that the future holds for young Black creatives and the momentum within the world of entertainment.
"I'm happy about where things are right now" the director said, "There is always room to grow as human beings, but I think what we can see right now is we're in a beautiful space."
Ava DuVernay, a great source of inspiration for Hicks and other Black filmmakers, once summarized the beauty of this energetic shift in creativity, saying, "When you're in your lane, there's no traffic."