Analysis: With Newly Redrawn Districts, Voting Rights in Michigan Are Under Threat
Though commissioners of the map claim it creates partisan fairness by scattering Detroit's clusters of Democratic voters, some Black residents say the decision diminishes voting power and violates the Voting Rights Act.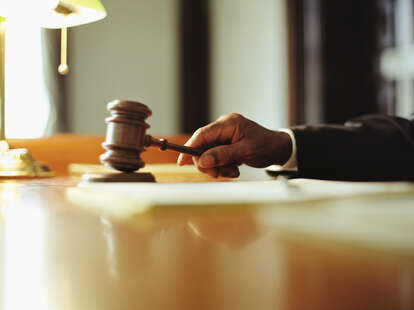 In December 2021, Michigan lawmakers approved the implementation of a newly drawn map representing congressional and legislative districts, a decision which prompted several Detroit lawmakers to file a lawsuit against Mighigan's redistricting commission last week on the grounds that the new map illegally hurts and diminishes the voting power of Black Americans by violating the Voting Rights Act.
While some consider the map a victory for partisan fairness, the change has been unpopular among many Black Detroit residents, who feel silenced and fear that the new change will lead to widespread corruption, consolidation of power, and gerrymandering.
Nabih Ayad, an attorney representing the Detroit lawmakers and other plaintiffs in the case, told NowThis that the new map "takes the power away from the African American community and takes the right to vote away."
In the new lawsuit, Ayad and other Black lawmakers are asking the Supreme Court to block the adoption of the maps and redraw them.
During a press conference last Monday, Reps. Tenisha Yancey, Tyrone Carter, Helena Scott, Stephanie Young, Mary Cavanagh, Sen. Betty Jean Alexander, and former Detroit lawmakers Sherry Gay-Dagnogo and Teola P. Hunter stated that the new map could negatively impact the future election of Black lawmakers and that it violates the Voting Rights Act, which requires that districts appropriately represent minority populations. Essentially, the Voting Rights Act serves to prevent minority populations from being scattered into multiple districts, thus reducing their voting power.
In response to the changes, Ayad is encouraging young people to take action and "let the people around them know, their friends, family, congressional folks, state house Senate, that they oppose any redistricting that dilutes the interest of any minority."
Outside of Detroit, redistricting is on the rise, particularly in cities with majority Black populations. For many BIPOC voters, redistricting signifies increased exclusion from the ballot box and infringement on democratic rights. For example, in states that no longer require Justice Department preclearance, voters could face easily imposed standards that make it difficult to get to the ballot box.
In 2021 alone, state GOP leaders introduced a myriad of voting rights restrictions that Pres. Joe Biden and his administration seek to resist through the passage of both the John Lewis Voting Rights Advancement Act and the Freedom to Vote Act.
"I support changing the Senate rules, whichever way they need to be changed to prevent a minority of senators from blocking actions on voting rights," Pres. Biden said during his speech on Tuesday in Atlanta, Georgia, in which he addressed the urgency of protecting voting rights.