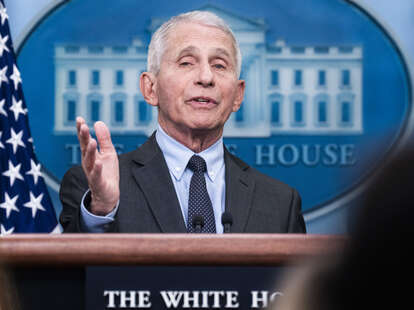 After more than 5 decades in public service, Dr. Anthony Fauci gave what's expected to be his final briefing to reporters at the White House today, before he retires from the Biden administration next month.
In his remarks, Fauci acknowledged the role COVID-19 has recently played in defining his image among the public, while also stressing that he considers his legacy to be much larger than the pandemic.
"I think what I've accomplished in my 54 years at the NIH and my 38 years as the director of NIAID, although COVID is really, really very important, it is a fragment of the total 40 years that I've been doing it," Fauci told reporters.
"I'll let other people judge the value or not of my accomplishments," he said. "But what I would like people to remember about what I've done is that every day, for all of those years, I've given it everything that I have, and I've never left anything on the field."
While many Americans might only know Fauci as the guy who tried to make the pandemic about science (instead of former President Trump's political future), he actually has a long history as the nation's top infectious disease expert. He has advised 7 U.S. presidents on a variety of diseases, from fighting HIV/AIDS under President Ronald Reagan in the 1980s to treating Ebola patients himself under President Obama in 2015.
One way to put Fauci's lengthy career into perspective: Former President George W. Bush awarded him the Presidential Medal of Freedom, our nation's highest civil award, in 2008 — and then he kept working for 14 more years.
Fauci's work began in a lab. As a clinical associate at NIAID, Fauci, in his 30s at the time, made a groundbreaking discovery about cancer drugs that turned a 98% mortality rate of a rare autoimmune inflammatory disease into a 93% remission rate.

But now, it's probably indisputable that Fauci's legacy will, on some level, always be tied to the country's COVID-19 experience. Even in his final briefing, Fauci's parting message was reminiscent of the early pandemic briefings — sensible, fact-based, discussing a topic that long ago went from being purely scientific to highly partisan.
"My message — and my final message, maybe the final message I give you from this podium — is that please, for your own safety, for that of your family, get your updated COVID-19 shot as soon as you're eligible to protect yourself, your family, and your community," he said.
So… are you up to date on your COVID boosters? Check out the CDC's website to see if you're eligible and find out where you can make an appointment as soon as possible.