Anti-Mask Rhetoric Led To "Tens Of Thousands" Of Deaths, NIH Director Says
"A mask is nothing more than a life-saving medical device, and yet it got categorized in all sorts of other ways that were not factual, not scientific, and frankly dangerous," NIH director Dr. Francis Collins said in a new interview.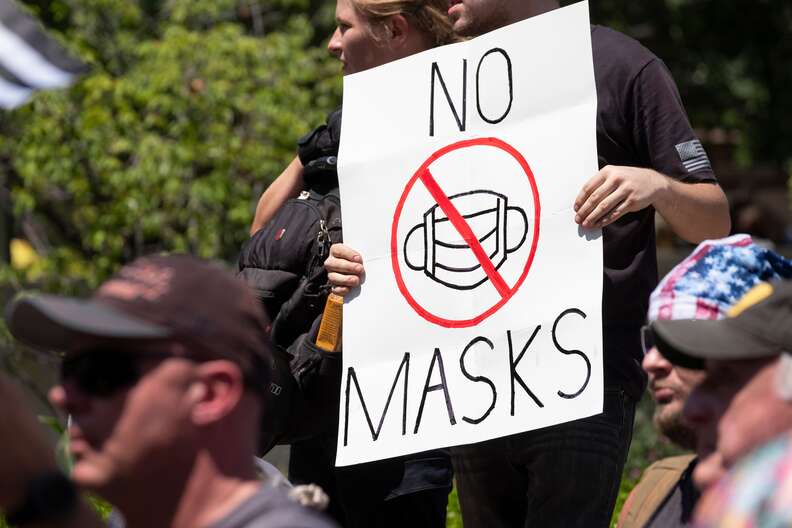 The director of the National Institutes of Health took aim at the politicization of mask wearing in the U.S., calling it a factor that likely contributed to "tens of thousands" of deaths from COVID-19.
On Sunday, Axios released a clip from its interview with NIH Director Dr. Francis Collins, who pointed out how responses to the COVID-19 pandemic "became a statement about your political party or an invasion of your personal freedom" and worsened the spread of the virus.
"Did misinformation make the pandemic worse?" Axios editor-in-chief Nicholas Johnston asked.
"The main concern about how this has been made worse is about mask wearing," Collins said. "The evidence was pretty compelling by last March or April that uniform wearing of masks would reduce transmission of this disease. A mask is nothing more than a life-saving medical device, and yet it got categorized in all sorts of other ways that were not factual, not scientific, and frankly dangerous."
Collins continued: "And I think you could make a case that tens of thousands of people died as a result."
On Monday, the U.S. crossed a grim milestone: at least 500,000 people have died as a result of COVID-19, according to Johns Hopkins University. The U.S. continues to lead the world in both case numbers and deaths, with more than 28 million people testing positive for the virus since the start of the pandemic.
Masks have been a contentious issue for some throughout the COVID-19 pandemic, despite infectious diseases experts continuously saying that wearing a facial covering would help stop or mitigate the spread of COVID-19. Former President Donald Trump often held campaign rallies with crowds of mostly unmasked people and didn't wear a mask publicly until many months into the pandemic. His administration never enacted nationwide mask wearing or social distancing mandates, instead leaving the decisions to state governments.
When asked specifically about Trump's anti-mask wearing behavior, Collins told Axios, "It's so disappointing that such behaviors could be chosen — intentionally by people who have access to real public health information and yet would decide not to put on the mask in order to make some other kind of statement. Perhaps with some sense that they're immune from the consequences." The White House announced in early October that Trump and Melania contracted COVID-19.
Science journalist and author Laurie Garrett recently accused Trump of "pandemicide" and said he was negligent during the pandemic's "deadly third wave" in the fall and early winter. Garrett also cited a study published by Stanford University which found that Trump rallies held between June 20 and September 30 resulted in more than 30,000 confirmed cases of COVID-19 and at least 700 deaths.
Collins said in his interview with Axios that "there is way too much politics in things where it doesn't belong."
"Science only can be considered reliable if it has a very high standard for what is actually proven, what is true," Collins said. "To the extent that we start to substitute our hopes, beliefs, feelings for scientific results then we start to get into trouble."
Dr. Anthony Fauci, director of the National Institute of Allergy and Infectious Diseases, has also supported the idea of a "uniform response" in terms of mask wearing, social distancing, and preventing crowds from gathering. In an interview in October with CNBC, Fauci mentioned how other countries who have enacted a national mask mandate have "been successful."
"It would have been different than if we did it the way we did it," Fauci said in the interview. "We've got to do something different. We can't just let this happen."
Fauci backed the recent recommendation of wearing two masks to better protect people from spreading or contracting COVID-19, as multiple variants of the virus, some of which are believed to be more contagious, have emerged in parts of the world including the U.S., the UK, and South Africa.