AOC & Beto O'Rourke Fundraise, Provide Relief For Texas While Ted Cruz Jets Off To Mexico
Rep. Alexandria Ocasio-Cortez and former Rep. Beto O'Rourke are being praised for aiding Texans after a winter storm left millions freezing and without power.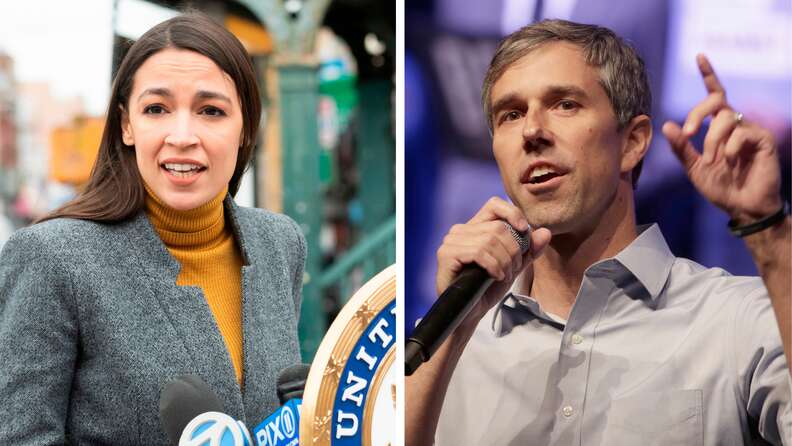 Two politicians are helping to provide resources for residents in Texas who went days without electricity, heat, or running water, while the state's own Sen. Ted Cruz (R) is under fire for flying to Mexico with his family.
This week, Rep. Alexandria Ocasio-Cortez (D-NY) and former Rep. Beto O'Rourke (D-TX), who narrowly lost to Cruz during the 2018 midterms, worked to provide Texans with supplies and conducted welfare checks, respectively, after the state was hit with an unprecedented winter storm.
Millions of people in Texas went without power for days after the winter storm took out the state's power grid, and the American South has seen record-breaking freezing temperatures. At least 47 people have died as a result of the extreme weather as of Friday, including at least 30 people in Texas, according to the Washington Post.
Ocasio-Cortez tweeted Friday that the relief fund she set up raised more than $2 million in one day and will benefit five Texas-based organizations. She also said she would be traveling to Texas on Friday to "distribute supplies and help amplify needs & solutions."
"Charity isn't a replacement for good governance, but we won't turn away from helping people in need when things hit the fan," Ocasio-Cortez tweeted.
O'Rourke tweeted at Ocasio-Cortez, thanking her and other contributors for the relief fund. The former member of Congress also worked to provide Texans with assistance, including tweeting out resources and organizing a phone bank that conducted welfare checks on senior citizens. Volunteers made more than 784,000 phone calls that helped senior people find shelter, food, and water, O'Rourke said.

While the two politicians were working to directly help Texas, Cruz left the state to go on a trip to Cancun, Mexico with his family. A photo of the senator at the Houston Airport went viral late Wednesday, prompting intense criticism. Cruz returned to Texas on Thursday..
Cruz said in a statement Thursday that "wanting to be a good dad," he flew with his daughters who "asked to take a trip with friends." He added that his family "lost heat and power too." He has since expressed regret and called the trip "a mistake."
While Ocasio-Cortez and O'Rourke get praise, Cruz, a potential 2024 presidential contender, has faced widespread blowback, including calls for his resignation.