AOC's Powerful House Speech About Sexism/ Misogyny Resonates With Countless Women
AOC's impactful speech has drawn praise from women, who have commended her for recognizing Rep. Ted Yoho's aggression as well as the sexism women face at work and in their everyday lives.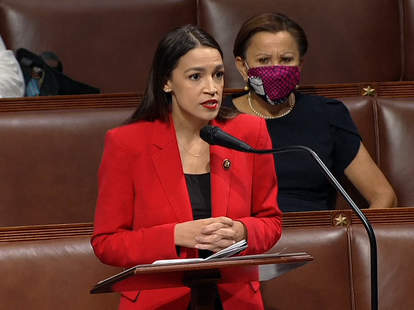 Alexandria Ocasio-Cortez delivers her powerful speech on the House floor July 23, 2020
Alexandria Ocasio-Cortez's speech from the House floor on Thursday, in which she called out Rep. Ted Yoho (R-FL) who accosted her on the Capitol steps and subsequently offered up a -non-apology, resonated with countless women, who have historically been forced to excuse misogyny from men.
AOC said that the language used by Yoho, who was accompanied by Rep. Roger Williams (R-TX) during the incident, was not new or incidental to her or any woman in America, but rather the product of a larger cultural problem.
"It is a culture of lack of impunity, of accepting of violence and violent language against women, and an entire structure of power that supports that," she said, noting that she has previously been spoken to disrespectfully by other lawmakers as well as President Trump, who last year told her and several other women lawmakers of color to "go back" to the countries they came from. In her statement, Ocasio-Cortez also referenced the abusive comments she's received while working service jobs at bars in New York City.
Here is my full response regarding Mr. Yoho and the culture of misogyny that inspired his actions.

I am deeply appreciative of my colleagues and everyone speaking up and out against the rampant mistreatment of women both in Congress and across the country. ⬇️ https://t.co/nFfxy5UdmP

— Alexandria Ocasio-Cortez (@AOC) July 23, 2020
According to a report by The Hill, which Ocasio-Cortez has corroborated,Yoho was coming down the steps on the east side of the Capitol on Monday as Ocasio-Cortez was coming up. Then, in an exchange overheard by a reporter, Yoho began to berate her, saying she was "out of [her] freaking mind" and "disgusting" because she suggested "that poverty and unemployment are driving a spike in crime in New York City during the coronavirus pandemic."
Ocasio-Cortez then responded that Yoho was being "rude," and as the two parted ways, Yoho joined Rep. Roger Williams (R-TX) and called Ocasio-Cortez a "f*cking b*tch."
On the House floor Wednesday morning, Rep. Yoho delivered a sort-of apology for the confrontation, which many analysts and writers pointed out wasn't exactly a heartfelt expression of regret.
"Having been married for 45 years with two daughters, I'm very cognizant of my language. The offensive name calling, words attributed to me by the press were never spoken to my colleagues and if they were construed that way, I apologize for their misunderstanding," said Yoho, adding that he "cannot apologize for my passion or for loving my God, my family, and my country."
But AOC countered in her speech Thursday that the language Yoho used against her contained directly harmful implications, as well as indirect consequences for women such as his wife and daughters.
"In using that language in front of the press, he gave permission to use that language against his wife, his daughters, women in his community, and I am here to stand up to say that is not acceptable" Ocasio-Cortez said.
Finally, AOC "thanked" Yoho for his behavior and its larger implications for men everywhere.
"Lastly, what I want to express to Mr. Yoho is gratitude. I want to thank him for showing the world that you can be a powerful man and accost women. You can have daughters and accost women without remorse. You can be married and accost women. You can take photos and project an image to the world of being a family man and accost women without remorse and with a sense of impunity," she said. "It happens every day in this country. It happened here on the steps of our nation's Capitol. It happens when individuals who hold the highest office in this land admit, admit to hurting women and using this language against all of us."
AOC's impactful speech was widely shared online, with other women not only commending her for standing against Yoho's aggression, but recognizing the sexism and misogyny that women face while dealing with men's aggression.
Every woman has at one time in her career heard a male peer utter something sexist about her under his breath. It's the quiet threat of his power, a reminder that women shouldn't take up the space we are taking. @AOC 's speech spoke to all of our anger. Grateful for her voice.

— Amber Tamblyn (@ambertamblyn) July 24, 2020
Thank you, @AOC for standing up for the millions of little girls and young women across the country who have to witness the countless abuses towards women. No matter what our views are, we must always be kind and respectful to others. #LikeaGirlScout https://t.co/6lIOVJRra7

— Girl Scouts NYC (@girlscoutsnyc) July 24, 2020
Every woman has been called a bitch a some point in their lives. It's used to invalidate our opinions without having to be smart enough to actually argue or refute them.

It comes from men who are threatened, and in their defense they should be 😉https://t.co/uSAM8m8HXl

— Dr.SicilianoCalipari (@TheErinCalipari) July 24, 2020
Several congresswomen rose to speak after AOC, including fellow members of her #Squad:
I not only stand with @AOC, but all women who have experienced verbal abuse not just once, but since they were little girls.

This behavior by Ted Yoho and so many others will not be tolerated.

All women deserve respect and fundamental equality. Period. pic.twitter.com/Zgjyp5Hleg

— Rep. Ilhan Omar (@Ilhan) July 23, 2020
Others on social media pointed out that, while Rep. Yoho isn't running for re-election to the House, Rep. Williams faces a woman Democratic challenger in his race.
If you saw @aoc's speech today, you'll remember she name-checked Rep Roger Williams, who stood by while Rep Yoho disparaged her. Guess what? Williams is up for re-election. Here's his competition to represent this hyper-gerrymandered West Austin district: @JulieOliverTX https://t.co/XwG5iYfnm0

— Melissa Murray (@ProfMMurray) July 24, 2020