As Novel Coronavirus Spreads, Dow Drops 2,000+ Points In Worst Reported Day Since 2008
The novel coronavirus' global spread has incited panic among investors, and a Saudi Arabia-Russia price war over oil is only underscoring the economic angst.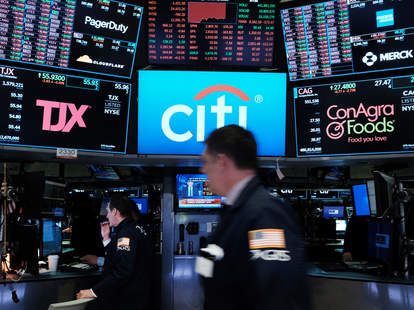 The novel coronavirus has continued to make the global economy go haywire as stock markets and oil prices nose-dived Monday.
The major U.S. stock market indexes opened more than 6% down. By the end of the day, the Dow Jones Industrial Average slumped by more than 2,000 points — the index's worst day since Oct. 15, 2008, according to CNBC. At the same time, the price of oil plunged to multi-year lows as economic tensions between Saudi Arabia and Russia escalated. International stocks aren't doing any better, as major Asia-Pacific and European markets opened on up to 7% declines, while financial centers like Italy announced a plan for a lockdown in an effort to prevent the virus' spread.
For weeks, investors have been panic-selling their stocks, creating prolonged market volatility. A "circuit breaker" was triggered due to the declines today, which is a measure approved by the U.S. Securities and Exchange Commission to temporarily freeze trading in order to avoid a major stock market crash. The precautionary measure was first introduced after the 1987 Black Monday crash and has since been rarely used.
The fallout in oil prices came after the intergovernmental organization OPEC reportedly failed to reach a deal about oil production costs, inciting a price war and prompting one of the world's biggest oil producers — Saudi Arabia — to announce on Saturday deep price cuts for April.
As one analyst told the Associated Press: "A combination of a Russia vs. Saudi Arabia oil price war, a crash in equities, and escalations in coronavirus woes have created a killer cocktail to worsen last week's hangover."
The 10-year U.S.Treasury bond yield also briefly fell below a historic all-time low of 0.4% on Monday as investors sought out safer havens to soothe their anxiety. The New York Federal Reserve reportedly said Monday that it would offer banks more short-term funding to allay further economic tumult.
In a series of tweets, President Trump blamed the oil price war and media for the stock market tank. Trump, who will face either former Vice President Joe Biden or Sen. Bernie Sanders in this year's election, has pinned much of his campaign's messaging to voters on the health of the economy. He is expected to speak at the White House later Monday about the economic response to the coronavirus outbreak.
Some consolation: for everyday small investors, target-date funds remain a relatively safe option as markets continue to weather turbulence, according to some personal finance writers.
As of Monday, more than 113,000 cases of coronavirus have been confirmed worldwide, according to a Johns Hopkins University tracker, which includes at least 3,996 deaths.