At George Floyd's Funeral, A Certainty That He Changed The World
At the private ceremony in Houston, civil rights leaders and elected officials spoke about the importance of police reform and the need to end systemic racism.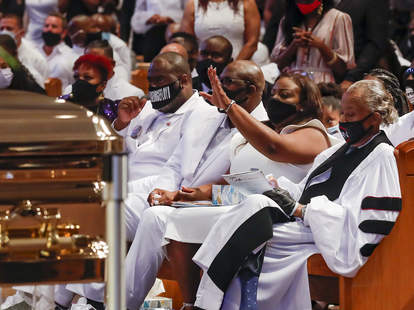 Friends, family, communities members, civil rights activists, and other mourners gathered in Houston, Texas, on Tuesday for the funeral of George Floyd. The event was a tribute to Floyd's  life, but also a reflection on faith, persistent racism in America, the importance of voting, and the need for law enforcement reform. 
 
The private ceremony at Fountain of Praise Church followed days of public memorials for Floyd in his home state of North Carolina and in Minneapolis, where he died after white police officer Derek Chauvin kneeled on his neck for nearly nine minutes. In the two weeks since Floyd died on May 25, protesters have gathered in cities around the world to demand justice for him and other Black people who have died tragically at the hands of police.
 
Floyd — who many called "Big Floyd" — was remembered as a freedom fighter, a "gentle giant," and a devoted father and grandfather. Speakers cited Floyd's dying words — "I can't breathe" — and how they fit into the prolonged discrimination against Black Americans, from the earliest days of slavery to the Jim Crow South.
 
BODY OF GEORGE FLOYD ARRIVES AT CEMETARY: George Floyd's casket arrives at the Houston Memorial Gardens where he will be buried next to his mother. https://t.co/G6Pp17OJLr

— NowThis (@nowthisnews) June 9, 2020
Among those who attended the service were Rev. Al Sharpton, attorney Ben Crump, Houston rappers Slim Thug and Paul Wall, boxer Floyd Mayweather, Congressman Al Green, Bishop James Dixon, and civil rights pioneer Rev. Bill Lawson. Mayweather is covering the ceremony's expenses, CNN reported. Artists including Ne-Yo performed throughout the event.
 
"He was a man who came from humble beginnings, but God has done some things even through this tragedy," Lawson said of Floyd.
 
Lawson, who once marched alongside Martin Luther King, Jr., pointed to the importance of voting for people who will protect the Black community.
 
"The first thing we have to do is clean out the White House," Lawson said. "Our states, counties, and cities need to have good leadership, and that means we have to go and vote."
 
He also reflected on the diversity of the protesters who have filled the streets in every U.S. state.
 
"Back in the day when I used to be part of marches, they used to be Black, but now there are white people who know the story, there are Hispanics who know the story, there are Asians who know the story," he said. 
 
 
Multiple elected officials were also in attendance, including Houston Mayor Sylvester Turner, who vowed during his speech to ban police chokeholds. Rep. Green (D-TX) spoke of the power of the movement that has succeeded Floyd's death.
"He changed not only this country, not only the United States, he changed the world," Green said. "George Floyd changed the world, and we're going to make the world know that he made a difference."
 
During his eulogy, Rev. Sharpton spoke passionately about the double standards in how the crime that led to Floyd's death would be perceived if the perpetrators were Black or the victim was white. 
 
"Until we know the price for Black life is the same as the price for white life, we're going to keep coming back to these situations over and over and again," Sharpton said. "Either the law will work or it won't work."
 
Sharpton also criticized President Trump for using a church as a prop in his photo ops early last week, which faith leaders have also roundly rejected. 
 
Democratic presidential nominee Joe Biden delivered comments remotely. During a consequential election season, Biden notably met with Floyd's family on Monday, while President Trump met with police. 
 
"Among all the people around the world who feel connected to this tragedy," Biden said, "are the ones who lost something that can never ever be replaced." 
 
Following the service, Floyd will be laid to rest at the Houston Memorial Gardens, buried next to his mother.