At Least 11 Dead After Severe Storms Throughout U.S.
Severe thunderstorms, flooding, high winds, and tornadoes touched down in parts of the southeast and even reached Chicago.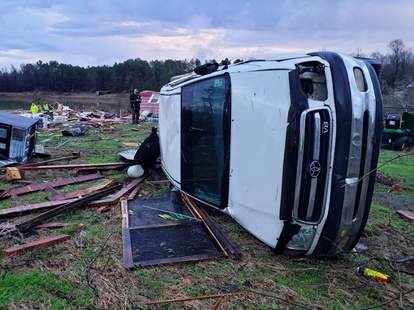 Bossier Parish Sheriff's Office
Severe storms hit parts of the southeast and midwest over the weekend, leaving at least 11 dead. 
Thunderstorms, flooding, high winds, snow, icy rain, and tornadoes were part of the many storms that hit parts of the southeast and even reached Chicago.
Three people in Pickens County, Alabama were confirmed dead on Sunday after a tornado ravaged the area, with winds reaching up to 134 mph. Three people, including two first responders, were killed in Lubbock, Texas after being struck by a vehicle while responding to another accident caused by icy conditions.
In Louisiana, three people were found dead on Saturday, including an elderly couple whose trailer was destroyed by high winds. Another man was found dead in Louisiana after a tree fell on his home. In Texas, a man died after a tree fell on his house. A man in Oklahoma drowned when his truck was swept away in a flood, while another person in Iowa died from a semi-truck crash related to the weather. 
The governors of Arkansa and Mississippi declared  states of emergency to receive extra resources after the storms' damage. Twelve tornadoes were reported in total throughout the southeast. 
In South Carolina, several buildings, including a high school in Kershaw County, were severely damaged.
 
In the midwest, freezing rain and high winds forced more than 1,200 flights to be cancelled at the Chicago O'Hare International Airport. 
Along with the destruction of the storm's path, thousands were left without power in Arkansas, Mississippi, and Louisiana. 28,000 outages were reported in the Carolinas. 
Just last month, several other storms passed through the southeast, leaving at least four dead and dozens injured.