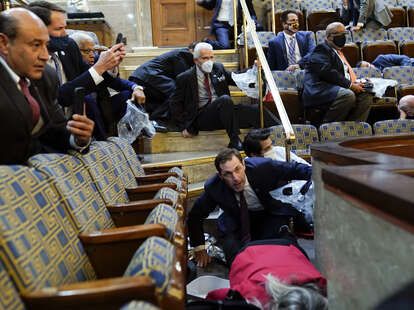 At least four people are dead after violent and armed Trump supporters angrily breached the U.S. Capitol in Washington, D.C. on Wednesday while Congress met to certify Joe Biden's presidential victory. The breach forced the session into recess out of safety concerns, and Vice President Mike Pence was ushered out of the Capitol by authorities.
One woman, identified as Ashli Babbitt, was shot by an officer inside the Capitol building and later died at a hospital, U.S. Capitol Police confirmed in a statement. That officer is now on administrative leave "and their police powers have been suspended pending the outcome of a joint Metropolitan Police Department (MPD) and USCP investigation," the police statement said.
Three other people — two men and one woman — died from "medical emergencies" in the area around the Capitol grounds, D.C. Police Chief Robert J. Contee III said Wednesday. Contee said earlier that officials recovered two pipe bombs and a cooler with Molotov cocktails while responding to the riot Wednesday.
"Two pipe bombs have been recovered, one pipe bomb from the DNC, one pipe bomb from the RNC. A cooler from a vehicle with a long gun in it that also included Molotov cocktails. This also was on the grounds of the United States Capitol," he said.
Contee said police made 52 arrests as of late Wednesday, most related to curfew violations.
Pence, who was presiding over the session, and members of Congress were evacuated by authorities after the breach, many of them being escorted through underground tunnels in the Capitol complex that are often used by lawmakers and staff to travel between buildings. Pence tweeted Wednesday afternoon, "The violence and destruction taking place at the US Capitol Must Stop and it Must Stop Now. Anyone involved must respect Law Enforcement officers and immediately leave."
The already-tense rally, which President Trump spoke at Wednesday morning, grew violent as crowds swarmed the exterior of the Capitol building, pushing through barricades and clashing with police.
Some members of the crowd were able to push past police and enter the building, forcing a lockdown. D.C. Mayor Muriel Bowser ordered a curfew for the district starting at 6 pm ET with the exception of first responders and essential workers.
As tensions between authorities and rally members who breached the building continue, reports detailed that both protesters and police have drawn guns. Reporters at the Capitol tweeted that shots were fired into the Senate chamber. Tear gas was dispersed in the halls as lawmakers remain locked down in their chambers.
Rep. Mark Pocan (D-WI) tweeted out to viewers letting them know he is safe but that it is "a sad day for America" and called out the president for "inciting domestic terrorism."
In a speech earlier Wednesday to the supporters on the National Mall, Trump encouraged the crowd to march on the Capitol and asserted that he will "never concede."
Although Biden secured the necessary majority of the country's electoral votes to be president-elect and many prominent political figures have urged Trump to concede, the president has repeatedly lied about how the election was "stolen" from him due to voter fraud, though there is no evidence to support such assertions. Election officials in all 50 states have repeatedly said there is no evidence of fraud and that the November vote was free and fair. More than 90 federal and state judges have ruled against challenges to the election.