Attorney General William Barr Is Resigning
Trump tweeted that his longtime loyalist Attorney General Bill Barr will step down on December 23, just a few weeks before the end of his presidency.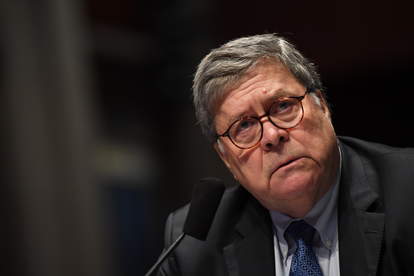 Mere minutes after President Donald Trump formally lost the Electoral College vote to President-elect Joe Biden, Trump tweeted that his longtime loyalist Attorney General Bill Barr will step down on December 23 — just weeks before the end of Trump's presidency.
"Just had a very nice meeting with Attorney General Bill Barr at the White House," Trump tweeted Monday evening. "Our relationship has been a very good one, he has done an outstanding job! As per letter, Bill will be leaving just before Christmas to spend the holidays with his family."
The president added that Deputy Attorney General Jeff Rosen will become acting Attorney General, and interim U.S. Attorney Richard Donoghue will become Deputy Attorney General.
Trump shared Barr's resignation letter, dated December 14, in the tweets.
Barr wrote that his Monday afternoon meeting with the president was about "voter fraud allegations in the 2020 election and how these elections will continue to be pursued." The attorney general already announced earlier this month that the Justice Department had found no evidence of widespread voter fraud, leading Trump to retweet calls for Barr's ouster.
The rest of Barr's letter was rather ingratiating toward the president and did not mention his reasons for stepping down.
"I am greatly honored that you called on me to serve your Administration and the American people once again as Attorney General. I am proud to have played a role in the many successes and unprecedented achievements you have delivered for the American people," Barr wrote. "Your record is all the more historic because you accomplished it in the ace of relentless, implacable resistance."
He went on to claim that Trump built "the strongest and most resilient economy in American history," brokered "historic peace deals in the Mideast," which many thought "impossible," and touted more alleged successes from Trump in the areas of immigration, national security, and the COVID-19 pandemic. As of Monday, more than 300,000 people in the U.S. have died of COVID-19 — a higher death toll than in any other country.
In Barr's letter, the only specific reference to resignation came at the end and did not offer any specific details as to why he would step down less than a month before the end of Trump's term: "As discussed, I will spend the next week wrapping up a few remaining matters important to the Administration and depart on December 23rd."
Barr has been widely condemned for treating the Justice Dept. as Trump's personal legal team. He misrepresented the findings of Robert Mueller's report on Russian interference in the 2016 election and ties to the Trump campaign, sought to block personal lawsuits against Trump, and sought to drop or diminish charges and criminal sentences for Trump allies.
However, he seemed to fall out of Trump's favor after he announced that the Justice Dept. had found no evidence of widespread voter fraud, a baseless conspiracy theory that the president and most of his allies have continued to push. As of Monday evening, Biden has officially won the Electoral College, and Trump has still not conceded the election, the results of which were called on November 7.
In the final weeks of his tenure, Barr oversaw the first federal executions of incarcerated people to occur in the last 130 years during a lame-duck presidential period.