Aurora Police Storm And Pepper Spray Peaceful Violin Vigil For Elijah McClain
The peaceful, musical assembly was organized in honor of the late 23-year-old McClain, who was a violin player. He died in police custody last August.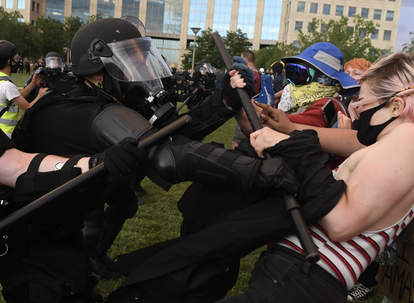 Police in riot gear stormed a peaceful vigil of violin players in Aurora, Colorado on Saturday, disrupting an event meant to honor the memory of Elijah McClain. McClain was a 23-year-old Black man who died after police forcibly detained him while he was walking down the street last year. He was also an "accomplished violinist who was known for spending his lunch breaks putting on concerts for the cats and dogs at a community animal shelter," The Cut reported.
Video captured from attendees at the event showed violin players in a park where some onlookers assembled, before an intimidating line of dozens of police officers in riot gear appear marching through the park. The police then used pepper spray to disperse protesters, escalating the situation.
Several videos on social media also showed the peaceful nature of the event before police became aggressive. Aurora Mayor Mike Coffman tweeted Monday afternoon that he's called a special meeting of the Aurora City Council for Tuesday at 5:30 pm "because of growing concerns about the police response to Saturday's protest." Coffman said Interim Chief of Police Vanessa Wilson will give a briefing and take questions from the mayor and City Council members. Coffman had previously tweeted late Saturday: "Thanks to the leadership of @APDChiefWilson and the members of @AuroraPD for making sure that the #protest today did not get out of control so that those who wanted to peacefully protest were allowed to do so," leading several community members to reply and ask for a response to the aggressive police actions captured on video.
One of the attendees, Blake Jackson, told The Cut the police "were intimidating and pushing up against us. It was a really surreal scene. You looked to the left to see all of us standing there with our hands up and the violinists continuing to play, and you look to your right and see hundreds of cops in riot gear." Jackson noted the number of parents there with children.
The Aurora Police Department tweeted updates of the clash in real-time on Saturday evening. "There is a small contingent of protestors that are arming themselves with rocks & sticks and continue to ignore orders to move back. This is now an unlawful assembly. Disperse," reads one tweet.
Police also said a separate group that had been protesting the same day were attempting to "cross the fence" at the entrance of the police department, which is why they eventually responded with force. But the department's description conflicts with video and eyewitness accounts, which show the violin players peacefully assembled in the park. At least two eyewitnesses told The Cut they did not recall "seeing anyone throw rocks or bottles."
The excessive police response came just two days after Colorado Gov. Jared Polis (D) announced he had appointed a special prosecutor to conduct an independent investigation of McClain's death, after an internal review last August concluded the police officers acted appropriately and the local district attorney declined to bring any charges against them.
"At a bare minimum," McClain's family "deserve a thorough review of the case," Gov. Polis said in a statement accompanying the order, adding that he also spoke with McClain's mother.
The decision comes after weeks of mounting calls to reopen an investigation into McClain's death, as well as nationwide protests against police brutality and systemic racism in the wake of George Floyd's death at the hands of Minneapolis police.
Related: Public Outcry Forces New Investigations In Elijah McClain's Death
On the night of his arrest, August 24, 2019, McClain was walking home from a grocery store in Aurora around 10:30 p.m. while wearing a ski mask and carrying a bag of groceries. His sister told local ABC affiliate KMGH that he wore the mask because he "had anemia and would sometimes get cold." McClain, who was not armed, was listening to music in headphones.
The officers called paramedics as McClain vomited into the grass. Aurora fire officials who responded said McClain "appeared to be showing signs of excited delirium," and they used ketamine to sedate him.
The medic also said that after McClain was placed onto a gurney, his "chest was not rising on his own, and he did not have a pulse. Cardiopulmonary resuscitation and medication were administered to Mr. McClain and he was taken by ambulance" to a hospital. McClain went into cardiac arrest on the way to the hospital and "suffered brain damage," according to the Denver Post and several subsequent reports. His family said he was covered in bruises. McClain was declared brain dead on August 27 and placed on life support until August 30, six days after the arrest, when he died, the DA said.
As national conversations around defunding the police continue, police in other cities including New York shoved peaceful protesters and used pepper spray and batons this weekend during the Queer Liberation March for Black Lives Matter and Against Police Brutality.