Country Band, Formerly Lady Antebellum, Sues Black Artist To Use Her Name, Lady A
The Seattle-based singer asked for a $10 million payment to share the name "Lady A," which she reportedly has used for more than 20 years.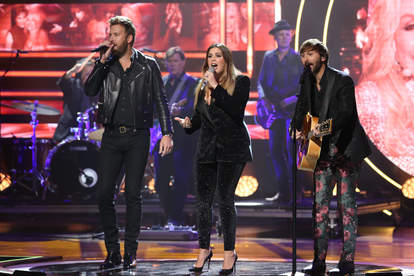 Lady A, the country band formerly known as Lady Antebellum, is suing a longtime blues singer who uses the stage name "Lady A," asking that both musicians be able to use the title.
The massively popular country trio—whose members include Hillary Scott, Charles Kelley, and David Haywood— filed a trademark lawsuit Wednesday against Anita White, whose stage name is Lady A. White is a Seattle-based Black musician and blues, funk, and gospel singer. The lawsuit asks that both musicians be able to "coexist."
In an Instagram story on Wednesday, White posted: "You finally realize your name is racially problematic so you shorten it, but then sue the Black woman that has been using that name for almost two decades… That's some white privilege."
The country band announced on June 11 that it would rebrand to "Lady A" and drop the word "antebellum" because of its connotations to slavery and the Confederacy in the wake of nationwide Black Lives Matter protests. A few days later, its members posted on Instagram that they had a Zoom meeting with White and "connected privately." 
"Transparent, honest, and authentic conversations were had," the photo's caption read. "We are excited to share we are moving forward with positive solutions and common ground. The hurt is turning into hope. More to come."
The next day, White told Newsday that the band was "trying to erase" her after she received a draft agreement from the band's camp. 
"I'm not happy about [it] yet again after talking in good faith," White told Newsday. "Their camp is trying to erase me and I'll have more to say tomorrow. Trust is important and I no longer trust them."
According to the lawsuit, White is attempting to "enforce" trademark rights for the name that the country band "has held for more than a decade." The suit also said White is asking for an "exorbitant monetary demand."
In a statement to multiple outlets, the country band said: "Today we are sad to share that our sincere hope to join together with Anita White in unity and common purpose has ended… She and her team have demanded a $10 million payment, so reluctantly we have come to the conclusion that we need to ask a court to affirm our right to continue to use the name Lady A, a trademark we have held for many years."
The band registered "Lady A" as a trademark in 2011 and said that no oppositions were filed at the time, though the band was still formally known as Lady Antebellum up until last month.
The suit said the band is not seeking any damages from White, nor do they wish to prohibit her from using the name, but that they "simply wish that the parties [can] continue to coexist," and share the name.
"Prior to 2020, White did not challenge, in any way, [the band's] open, obvious, and widespread nationwide and international use of the Lady A mark," the suit reads.
Sharing a trademark is fairly common and is allowed under "trademark coexistence," which allows two trademarks to exist as long as the businesses don't interfere with each other, according to the World Intellectual Property organization.
According to an interview with Rolling Stone, White has been using "Lady A" for 20 years and said she used it as early as the 80's at karaoke. 
"This is my life. Lady A is my brand, I've used it for over 20 years, and I'm proud of what I've done," White told Rolling Stone in June. "They're using the name because of a Black Lives Matter incident that, for them, is just a moment in time."
The lawsuit alleges that the band has been using "Lady A" interchangeably with Lady Antebellum as early as 2006. It also claims that in 2008, the band's website used the language "Lady A." The suit also said that White has never pursued the trademark herself.
When news of the lawsuit emerged, several critics accused the country band with all white members and a massively successful career of going after a Black artist, calling it "white privilege."
With the way @ladya is acting I think the "A" might stand for "antebellum" smh

— Ira Madison III (@ira) July 9, 2020
Let me understand...they changed their name from Lady Antebellum because they didn't want to associate with the racist past to a name that a BLACK woman in the music biz was already using...now they are suing HER for not wanting to relinquish the name? 🤔https://t.co/owmSK5Xuny

— Karen Hunter (@karenhunter) July 9, 2020
Lol amazing. Drops "Antebellum" so as not to be racist. Then proceeds to file lawsuit against, get this, a black blues singer who has used the name Lady A for two decades. Get out of the way, actual black artist! A wealthy white artist needs to appear hypothetically sensitive! https://t.co/aNrn9QjZpM

— Adrian Mathenia (@AdrianMathenia) July 9, 2020