Barack Obama To Join Virtual Graduation Ceremonies Filled With Celebs
The former president will be delivering speeches at three virtual events celebrating graduating seniors.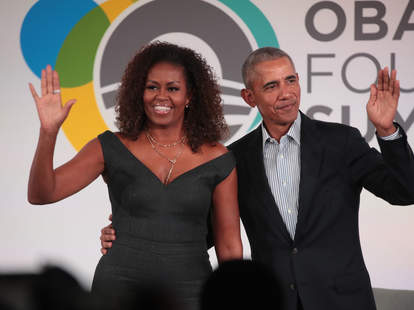 Michelle and Barack Obama. Getty Images.
As coronavirus has forced the shutdown of schools and colleges, a group of celebrities are coming together to celebrate millions of graduates in two virtual commencement ceremonies.
On Tuesday, President Barack Obama confirmed on Instagram that he would be joining the list of notable guests for "Graduate Together: America Honors the Class of 2020." The special will honor high school seniors and is set to air May 16 on ABC, CBS, FOX, and NBC, as well as social media and streaming platforms. 
The Entertainment Industry Foundation, The LeBron James Family Foundation, XQ Institute, and others will put on the event. Other guests including Pharrell, singer-songwriter H.E.R., LeBron James, and more will make appearances. On the "Graduate Together" official Instagram page, the organization confirmed that the former president would be giving a speech during the virtual special.
Obama will also be featured in "Show Me Your Walk, HBCU Edition," which will be streamed the same day.
High school seniors can submit videos, portraits, tweets, and more to be featured in the "Graduate Together" special here. 
In a separate event on June 6, Michelle Obama's Reach Higher organization partnered with YouTube for "Dear Class of 2020," a live commencement ceremony that will honor graduating seniors in both high school and college. Barack and Michelle Obama will be delivering speeches during that event as well. Other big names like Lady Gaga, BTS, Alicia Keys, Zendaya, former Secretary of State Condoleezza Rice, and more are also set to make appearances. 
Graduating seniors who want to be featured in that ceremony can submit their information here. 
Last month, the internet was out in full force asking President Obama to deliver a digital commencement speech to all the seniors who likely won't get to experience a graduation ceremony. The hashtag #ObamaCommencement2020 started trending after a graduating high school senior tweeted to the 44th president asking him to deliver the speech. The tweet attracted more than 223,000 likes and sparked other heartfelt pleas. 
The senior who started it all thanked the Obamas on Twitter after they announced they would be giving speeches.
"Graduate Together" will air on May 16 at 8 p.m. ET, while "Dear Class of 2020" will go live on June 6 at 3 p.m. ET.