Bethlehem To Remove All Public Christmas Decorations in Solidarity With Gaza
The news, posted on Bethlehem's Facebook on November 14, said it would remove 'all festive appearances in honor of the martyrs and in solidarity with our people in Gaza.'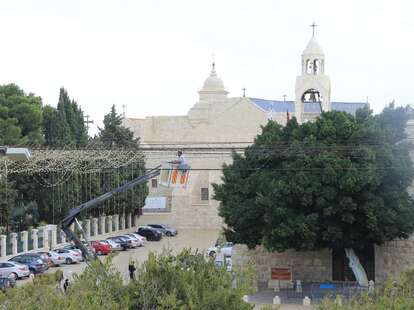 Facebook via Bethlehem Municipality
Facebook via Bethlehem Municipality
The city of Bethlehem, located in the West Bank, will remove all public Christmas decorations amid the ongoing Israel-Gaza war.
The news, posted on Bethlehem's Facebook on November 14, said it would remove 'all festive appearances in honor of the martyrs and in solidarity with our people in Gaza.' Another announcement, posted on November 16, stated that Christmas celebrations will be restricted to just religious rituals.
There will also be 'events to convey our strong condemnation of the Israeli aggression against our Palestinian people in the West Bank and Gaza,' according to the announcement. 'These events are particularly important as the world's attention is focused on the birthplace of Christ during this period.'
In particular, there will be no tree or lights in Manger Square, which is the spot where Jesus Christ is believed to have been born.
'This year the situation in Bethlehem is unprecedented and the mood and vibes are extremely sad, and that is exactly what the world should see, and realize that these are not normal circumstances,' a spokesperson for Bethlehem told The Telegraph.