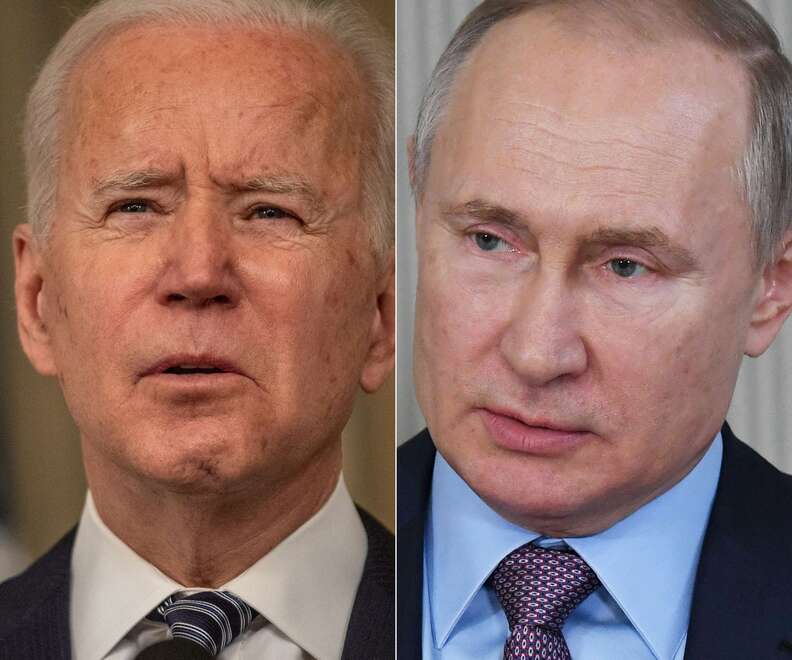 President Joe Biden said Russian President Vladimir Putin will "pay a price" for attempted interference in the 2020 U.S. presidential election, in a new interview with ABC News where he also confirmed he believes Putin is a "killer."
Biden sat down with ABC News anchor George Stephanopoulos the same day that the National Intelligence Council released a declassified report on foreign threats to the 2020 federal election.
"So you know Vladimir Putin. You think he's a killer?" Stephanopoulos asked.
"Mmhmm. I do," Biden responded.
Putin was asked for a response on Thursday, and said, "And what would my answer be [to Biden's comments]? I would tell him, 'I wish you good health.' I am saying it without irony or jokes."
Putin also said, "I remember in my childhood, when we argued in the courtyard with each other we used to say: it takes one to know one. And that's not a coincidence, not just a children's saying or joke. The psychological meaning here is very deep," according to Reuters. Putin said every nation has to grapple with "bloody events" — a pretty standard response from the Russian leader, to turn any criticism around on his critics, also known as "whataboutism."
The new U.S. intelligence report found that Russia sought to spread misleading information about then-candidate Biden to hurt his campaign, and that Russian actors also worked to influence people close to former President Donald Trump.
"The Russian state and proxy actors who all serve the Kremlin's interests worked to affect U.S. public perceptions," the report said. The intelligence community also found that Putin himself authorized the operations "aimed at denigrating President Biden's candidacy and the Democratic Party, supporting former President Trump, undermining public confidence in the electoral process, and exacerbating sociopolitical divisions in the U.S."
Summarizing the report's findings, Stephanopoulos asked Biden on Tuesday about Putin's signoff on interference: "What price must he pay?"
"He will pay a price. He — we had a long talk, he and I," Biden answered, likely referring to a January phone call with Putin where the U.S. president brought up interference, hacking, Russian treatment of political prisoners, and more.
"I know him relatively well," Biden continued. "The conversation started off, I said, 'I know you and you know me. If I establish this occurred, then be prepared.'"
During the interview, Biden also elaborated on a prior conversation he had when he visited leaders in Moscow, including Putin, in 2011 while serving as vice president. At the time, Putin was prime minister of Russia.
Stephanopoulos prompted Biden: "You said you know he [Putin] doesn't have a soul."
"I did say that to him, yes," Biden responded. "And his response was, we understand one another."
Biden continued: "I wasn't being a wise guy. I was alone with him in his office, that's how it came about. It was when President Bush had said, 'I looked in his eyes and saw his soul.' I said, 'I looked in your eyes, and I don't think you have a soul.' And he looked back at me and said, 'We understand each other.'"
Former President George W. Bush famously said in 2001 after his first meeting with Putin, "I looked the man in the eye. … I was able to get a sense of his soul."
Biden's 2021 retelling of the meeting is consistent with what he told The New Yorker in 2014 about the same conversation.
"Look, the most important thing in dealing with foreign leaders in my experience — and I've dealt with an awful lot of them over my career — is just: know the other guy," Biden said on Tuesday.
When the anchor once again asked what price Putin must pay, Biden said, "Well, you'll see shortly." He then spoke of being able to "walk and chew gum at the same time" and pointed out the places where "it's in our mutual interest to work together."
"That's why I renewed the START agreement with him. That occurred while he's doing this, but that's overwhelming in the interest of humanity, that we diminish the prospect of a nuclear exchange," Biden said, referring to the treaty on nuclear weapons between the U.S. and Russia that both countries have agreed to extend through 2026.
Though he did not further specify what punitive measures his administration might take in the ABC interview, earlier this month, Biden sanctioned several Russian officials over the government's attempted poisoning, arrest, and jailing of opposition leader Alexey Navalny.
Shortly after the intelligence report was released and the interview aired, Russia recalled its ambassador to the U.S. back to Moscow for "consultations," according to RFE/RL.
Russian Foreign Ministry spokesperson Maria Zakharova said in a statement, "The main thing for us is to determine the ways in which the difficult Russian-American relations that Washington has led into a dead end in recent years could be rectified. We are interested in preventing their irreversible degradation if the Americans recognize the risks involved."
White House press secretary Jen Psaki was asked about this development at the press briefing Wednesday afternoon.
"We've certainly seen those reports. I would say that our administration is going to take a different approach in our relationship to Russia than the prior administration," Psaki said. "We are going to be straightforward, and we are going to be direct in areas where we have concerns." She spoke about the administration's ongoing review of the U.S. relationship with Russia, and added, "As the president said [in the interview with ABC] last night, certainly the Russians will be held accountable for the actions they have taken.
NPR's Moscow correspondent Lucian Kim contrasted Biden's answer about whether Putin is a "killer" to a similar question posed to Trump by Fox News in 2017: