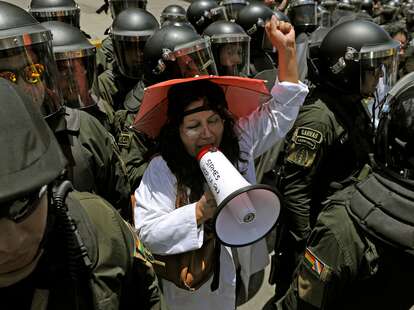 Bolivia's president Evo Morales has stepped down after weeks of mounting protests.

The violent demonstrations erupted in the country after Morales narrowly won the October 20 election. Though the election's early results showed that he and opponent Carlos Mesa were headed toward a runoff election, an updated vote tally released the next day, showed Morales had enough of a lead to avoid a runoff.

The update was suspicious to many and prompted some to accuse him of voter fraud. The EU and other international figures called for a second vote in the country, along with Mesa and civic leader Luis Fernando Camacho. Protests broke out both in opposition and support of Morales' win — leading to violent conflicts that have left at least three dead and dozens injured.

In a Monday tweet detailing his resignation, Morales said "the Bolivian people have never abandoned me and I will never abandon them." He also said he was the victim of a "coup." Some of Morales' allies, including the Mexican and Russian foreign ministry, said he was victimized by the violent demonstrations.

Morales' vice president and the head of the Senate also said they would resign — meaning second vice president of the Senate, Jeanine Añez, would come into power.

Morales had made controversial moves long before the October election. Having been in power since 2006, he tried to push a measure that would do away with term limits in 2016, but voters rejected his attempt to stay in power. His run in the October elections also defied constitutional term limits.