Book Lovers Build An App to Support Indie Bookstores During Coronavirus Crisis
After many independent bookstores were forced to close and lay off employees, an Instagram community came to the rescue with an app.
Getty Images/A closed bookstore due to to stay-at-home directives and confinement measures.
Getty Images/A closed bookstore due to to stay-at-home directives and confinement measures.
As small businesses around the world shutter during the coronavirus pandemic, a new web app has sprung up to fight for independent bookstores.
Save Your Bookstore began as a spreadsheet of indie bookstores curated by Aakanksha Gaur, the woman behind the three-year-old Instagram community, ShelfJoy.
"It's the same community who would — like — their heart would jump a beat when they saw a really nice, cozy reading nook," she described to NowThis from her home in Pune, India.
When Gaur saw multiple bookstores telling their customers online about the uncertainty they had found themselves in, she knew something needed to be done. So she collaborated with a handful of her 51,000 followers and personal connections to transform the "ugly spreadsheet" into a user-friendly app within the span of a week.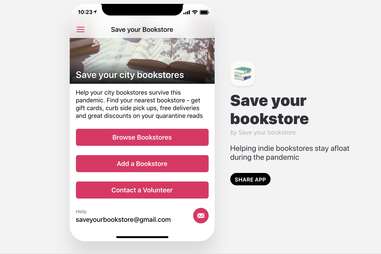 "So many bookstores that I've covered over three years, I can't believe that they might just go under," she remarked. "I felt that Amazon and the big giants, they would take a hit, but they won't go under. They will not be out of business completely, [but] the bookstores will be."
Users are encouraged to follow sellers' social media accounts, purchase gift cards, and find a variety of special offers—everything from curbside pickup to mystery bags of books. They can browse the app by location, similar to Bookshop.org, an online bookstore that donates a portion of proceeds to indie stores.
Although it doesn't sell books, the app does offer curated information about each individual storefront, which Bookshop.org doesn't, and it spans beyond the U.S. A paid contributor in Europe is keeping its database up-to-date.
"I find the space that an independent bookstore holds very sacred. I can see the love that I have for reading and my accumulation of books manifested in a physical space," Gaur said. "It's a connection for me, like [what you might have] with a very old friend."
Book lovers can visit the app from their desktop, smartphone, or tablet to browse through bookstores to support or add their own favorites. So far, the app lists more than 600 locations in 137 cities across eight countries, including one storefront all the way in Beirut, Lebanon.
The American Booksellers Association estimates there are more than 2,400 indie bookstores across the U.S., and Gaur wants her app to include them all, saying the love Americans have for these storefronts as "precious community centers" is strong. For now, her team of volunteers is adding as many as they can and communicating with bookstores about how else they can help.
"For every bookstore, it is a labor of love," she said. "The love reflects, so I wanted to give them thanks."