Boris Johnson Tests Positive For Coronavirus
"I am now self-isolating, but I will continue to lead the government's response via video-conference as we fight this virus."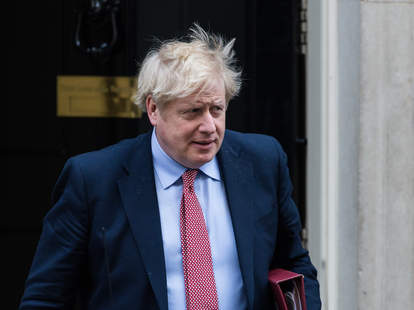 Boris Johnson has tested positive for coronavirus. The UK Prime Minister announced the news on Friday via a video on Twitter, saying, "I am now self-isolating, but I will continue to lead the government's response via video-conference as we fight this virus."
Over the last 24 hours I have developed mild symptoms and tested positive for coronavirus.

I am now self-isolating, but I will continue to lead the government's response via video-conference as we fight this virus.

Together we will beat this. #StayHomeSaveLives pic.twitter.com/9Te6aFP0Ri

— Boris Johnson #StayHomeSaveLives (@BorisJohnson) March 27, 2020
Just hours before Johnson's video, UK Health Secretary Matt Hancock announced via Twitter that he too had tested positive for the virus. 
"Fortunately for me the symptoms so far have been very mild so I've been able to carry on with the work driving forward the UK response," he said in the video announcement.
Johnson and Hancock's news also comes several days after it was announced that Prince Charles had tested positive for the virus.
Johnson had previously resisted strict self-isolating measures amid the pandemic, but the rising UK death toll prompted him to implement a lockdown on Monday. 
Though Johnson assured in the video he would continue to lead via video, Foreign Secretary Dominic Raab would be expected to stand in his place, in the event that he couldn't fulfill his duties.