Breonna Taylor Is The First Person On O Magazine Cover Without Oprah
The late 26-year-old will be honored on the cover of the magazine's September issue, which will feature a conversation between Oprah and Taylor's mother.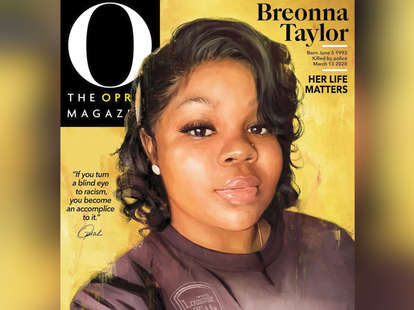 Oprah Winfrey will dedicate the cover of O Magazine to Breonna Taylor, marking the first time in 20 years that the co-founder would not be featured.
The magazine previewed the cover Thursday for the September issue, which will be available to download or buy on August 11. The cover is an artistic rendition of Taylor, created by Alexis Franklin, a 24-year-old digital artist. Taylor, a 26-year-old EMT, was shot and killed by police in her Louisville, Kentucky home on March 13.
So far, none of the police officers involved have been charged with a crime.
"Breonna Taylor. She was just like you," Oprah writes, as previewed by the magazine. "And like everyone who dies unexpectedly, she had plans. Plans for a future filled with responsibility and work and friends and laughter."
The magazine will also feature a conversation between Oprah and Taylor's mother, Tamika Palmer.
"What I know for sure: We can't be silent. We have to use whatever megaphone we have to cry for justice. And that is why Breonna Taylor is on the cover of O magazine. I cry for justice in her name," Oprah continued.
Taylor's killing has been a pivotal focus of the Black Lives Matter movement's resurgence that has swept the nation following the death of George Floyd, who was also killed in police custody in May.
On Saturday, several WNBA players on the New York Liberty and Seattle Storm honored Taylor by wearing her name on their jerseys and staging a walkout during the national anthem before the game.
"We are dedicating this season to Breonna Taylor, an outstanding EMT who was murdered over 130 days ago in her home," said New York Liberty player Layshia Clarendon, a member of the WNBA's new Social Justice Council and the vice president of the Women's National Basketball Players Association. "We thought that was very fitting to do a moment of recognition — not a moment of silence."
Louisville police have said three plainclothes officers, Brett Hankison, Jon Mattingly, and Myles Cosgrove, discharged their weapons at Taylor's apartment while executing a no-knock search warrant in a suspected drug case. Her boyfriend, Kenneth Walker, was at her apartment when the officers entered.
Hankinson has been fired, while the two other officers were placed on administrative leave.
New information came to light earlier this month about the incident surrounding Taylor's death. Audio obtained by CNN of interviews days after Taylor's death with Walker and Mattingly have shed new insight.
As CNN reported, Walker said he "was scared to death" when the couple heard loud bangs on the door and said police did not announce themselves. He said the door came "off the hinges," which led to Walker, who is licensed to carry a weapon, to fire one shot. Police fired their weapons and shot Taylor eight times.
Walker told investigators that officers asked him if he was hit; when he said no, an officer reportedly responded, "that's unfortunate," CNN reported.
In mid-June, the Louisville Metro Council unanimously passed "Breonna's Law," which bans no-knock warrants in the city.
Many petitions have circulated demanding justice for Taylor. Politicians, professional athletes, and celebrities have also spoken out, including Beyonce, who wrote a letter to Kentucky's attorney general, urging him to take action.
Correction: A previous headline of this article said that Breonna Taylor was the first person to be on the cover of O Magazine besides Oprah. Michelle Obama and Ellen DeGeneres have previously been featured alongside Oprah on the magazine's cover. This article has been updated to reflect that information.