This Floral Designer Creates Amazing Bouquets Inspired by Brooklyn
With Brooklyn Blooms, LaParis Phillips is infusing her own sense of style — plus the 'funky' and 'spicy' vibe of Brooklyn — into every bouquet.
LaParis Phillips initially came to New York as a self-proclaimed "fashion girlie," with dreams of joining the bustling fashion industry that dominates the city. Instead, she found inspiration in nature, particularly floral arrangements. This personal pivot eventually led to a budding business.

"I just love how [flowers are] not here for long. I love to savor the moments that they're with us," Phillips said. "When it's done, it's like, 'That's it, onto the next. What else does the new season have to bring?'"
Phillips planted the seed for her business Brooklyn Blooms in her apartment 8 years ago, with the goal of creating bouquets inspired in part by Brooklyn and its diverse neighborhoods and characters.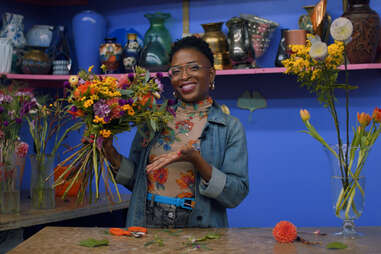 "When you go around the world, people know what Brooklyn is, right? So I just feel like our work kind of just permeates through people when they see the flowers," Phillips said. "If you put Brooklyn Blooms in a lineup, you are always going to be able to tell which one is a Brooklyn Blooms arrangement. I really feel like that's the Brooklyn way of standing out."
Now, her business has grown from her apartment, to two locations that handle any and all floral services — from retail to weddings, corporate events, editorial photo shoots, and more.
"You always think of an older person running a flower shop, and I really wanted to change the look of that because there's so much opportunity in something new and showing people how flowers really can be played with and transformed into an art piece," Phillips said. "You can be creative, make money, and make a living."
Flower shops do run in the family for Phillips. Growing up in St. Louis, her family owned a balloon flower shop where she would watch her aunt and grandmother put together gift baskets.
"Just being in that world and just seeing the inner workings definitely inspired and has always been with me," she said.
With two storefronts already, Phillips has no plans to slow down, saying she's excited to expand in part because "every neighborhood needs a flower shop. It's an essential part of a neighborhood."
"I always tell people I'm just getting started. I'm appreciative of what I have, but there's still more work to do. And so the journey has just begun."
You can see more of Phillips' work and learn more about her business on the Brooklyn Blooms Instagram page.
Hear more about small business owners making a big impact on It's My Business.