Unvaccinated Buffalo Bills Wide Receiver Says He Will Resist NFL's New COVID-19 Guidelines
More than half the players in the league have received at least one dose of the COVID-19 vaccine, according to The Washington Post.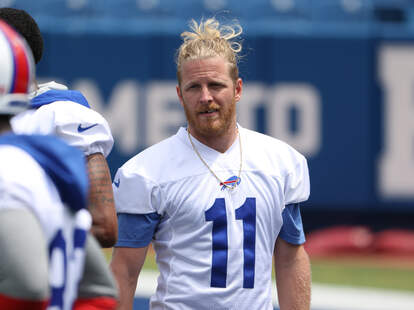 Cole Beasley, a wide receiver for the Buffalo Bills, said he will not follow the NFL and NFL Players' Association COVID-19 guidelines for unvaccinated players.
"I will be outside doing what I do," Beasley said in a lengthy Twitter post on June 18. "I'll be out in the public. If your [sic] scared of me then steer clear, or get vaccinated. Point. Blank. Period. I may die of covid, but I'd rather die actually living."
On June 16, the NFL and NFLPA agreed to new rules for training camp and preseason. With the latest regulations, fully vaccinated players will be tested for COVID-19 every two weeks rather than every day. They'll also be permitted to go mask-free while at a club facility or while traveling with the team and to meet up with friends and family during team travel. If a vaccinated player is exposed to COVID-19, they won't have to quarantine.
Unvaccinated players, on the other hand, will have to undergo COVID-19 tests daily, wear masks and remain physically distant while around their teammates, stay in hotels while traveling with the team, and quarantine if they're exposed to COVID-19.
Noncompliant players are subject to fines of up to $50,000, but Beasley said that he's not scared of the potential fines because he doesn't "play for the money anymore" and that he will "play for free this year to live life how [he's] lived it from day one."
"If I'm forced into retirement, so be it," Beasley said.
The 32-year-old equated getting vaccinated with taking medicine for a nonexistent health issue.
"I'm not going to take meds for a leg that isn't broken," he said.
Beasley's statement comes as public health leaders warn that the delta variant, which is believed to be more contagious and possibly more harmful, will likely become the dominant strain of COVID-19 in the U.S. in the coming months.
"I will say, as worrisome as this delta strain is with regard to its hyper-transmissibility, our vaccines work," CDC Director Dr. Rochelle Walensky said on "Good Morning America" on June 18. "Right now, they are working and they require actually two doses or to be fully vaccinated to work. So I would encourage all Americans to get your first shot and when you're for your second, get your second shot and you'll be protected against this delta variant."
Beasley, who is entering his tenth season and his third with the Bills, ended his note saying other players share his sentiment.
"A lot of other NFL players hold my position as well but aren't in the right place in their careers to be so outspoken," he said.
Indeed, Beasley's teammates, including Bills QB Josh Allen and safety Jordan Poyer, have expressed hesitation about speaking about their COVID-19 vaccine status.
More than half the players in the league have received at least one dose of the COVID-19 vaccine, The Washington Post reported last week.
The Bills announced today that per New York state guidance, the team's Highmark Stadium will be open for full capacity this upcoming season. Both vaccinated and masked-up, unvaccinated fans are welcome to attend, according to the announcement.