Buzzer App Launches With a Focus on Driving Community Through Live, Viral Sports Moments
Geared toward Gen Z users, the mobile platform gives sports fans the chance to watch must-see sports content in real time — and uses data to identify highlights that will unite fans.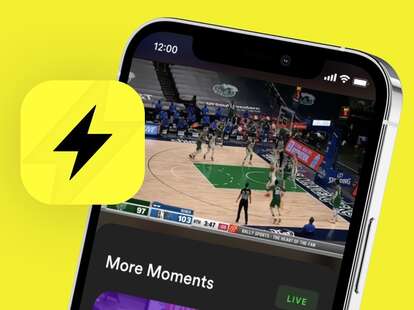 Credit: Buzzer
Credit: Buzzer
Live sports mobile platform Buzzer, which aims to connect young millennials and Gen Z audiences with memorable live sports moments, officially launched today more than two months after receiving $20 million in series A funding from sports investors and prominent athletes including Naomi Osaka, Michael Jordan, and Patrick Mahomes.
The app, which curates short form moments from live sports content, is designed to keep younger sports fans up to date on the biggest moments in sports, which it personalizes based on their preferences, and data. Intended to instantly provide fans with utility, Buzzer's purpose is to replace the common practice of turning to social media platforms like Twitter or Instagram for highlight clips. Its launch coincides with the start of the NBA season.
"Everyone is excited about the return of the NBA season," Buzzer Founder and CEO Bo Han told NowThis, "If you're not watching any of those games live, you have this overwhelming sense of FOMO of panic of trying to find the nearest TV or sports bar ... By the time you figure that all out, it's over," he added. "We're talking about these live and ephemeral moments that happen to be the most marketable moments in a game."
Buzzer, which in addition to the NBA also has partnerships with the PGA Tour, the NHL, and the WNBA, allows fans to to pay 99 cents to watch 10 minute of live game footage, or to pay $2 each quarter for access to vital moments in sports, instead of subscribing to more traditional sports streaming platforms on a monthly basis.
Han, who previously spent seven years at Twitter directing live content, explained to NowThis the importance of building a sense of community among younger users through sports, which he calls "not only an equalizer, but a unifier."
"Sports bring people together," Han said, "We are in a time when everything is politicized, everything is divisive, investing in a product that brings people together ... It's a very good timing to have a platform like this to remind people that there are far more things that unite us than divide us."
In a Tuesday evening tweet, Han announced the app's launch, writing, "Today is day 0. Tomorrow is day 1."
The immediacy linked to the consumption habits of younger mobile app users also plays a role in Buzzer's micro-transaction model and the decision to lead with mobile alerts. Describing the initial concept for the app, Han said, "When we're thinking about Buzzer, we asked ourselves 'How do we meet them as they already are and present a long form game in a short form way?'"
The model and format of Buzzer were also driven by Gen Z's increasing tendency to seek and consume highlight reels on social channels, and an overall decline in live sports viewership. According to Buzzer, of the users who provided their date of birth, 84% are either Gen Z or millennials.
Younger generations also drove the development of the platform itself. Meagan Loyst, a 24-year-old investor at Lerer Hippeau and the founder of Gen Z VCs, spoke to NowThis about the role of younger investors and beta-testers throughout Buzzer's journey. "As an app, you have your users, and you get feedback. We made it two-sided," Loyst said. (Lerer Hippeau Managing Partner Ben Lerer is the CEO of Group Nine Media.)
Buzzer's emphasis on youth and community is also exemplified by its Strive Program, which aims to provide mentorship in Black, Brown, Indigenous, AAPI, and other communities of color to drive impact. The Mentorship Program creates connections between college students, especially towards students attending HBCUs and other Minority Serving Institutions, with industry professionals in the fields of sports, entertainment, media, technology.
"When we kicked off the program, we let Gen Z students get involved. [We said] Here's the story of Buzzer ... We want to build with you, and that narrative really matters," Loyst said.
Among the new features that are available with the new launch are Picture-in-Picture, which will allow Buzzer users to create and host sports watching events with friends via social media or the app's chat function.
"[This is a] key case for how we're addressing our younger audience. It's the benefit of being mobile first for these moments to be accessible beyond the subscription model," Han said.