CA Beach Returned to Black Family After 100 Years in "Property-Based Reparations"
Los Angeles Country voted to return the beachfront land in June.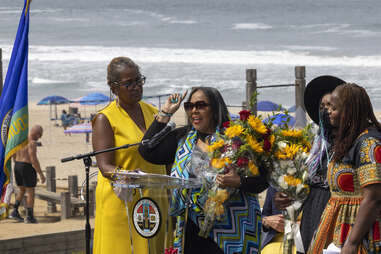 From 1912 to 1924, Charles and Willa Bruce owned and operated Bruce's Beach. It was a resort and haven for Black residents to congregate away from the racism of Jim Crow-era California. The popular destination often hosted live music, Black celebrity appearances, and family parties.
In 1924, after relentless harassment from the Ku Klux Klan and white neighbors failed to frighten away the thriving community, city officials condemned the land. They seized several properties through eminent domain and claimed that the land was needed to build a park.
On July 20, the land was returned to the Bruce family in a public ceremony, marking what officials are calling the country's first act of "property-based reparations."