California Lawmakers Apologize for WWII Internment of Japanese Americans
After Franklin D. Roosevelt signed an executive order in 1942, more than 122,000 people of Japanese descent were imprisoned in 10 camps across seven U.S. states.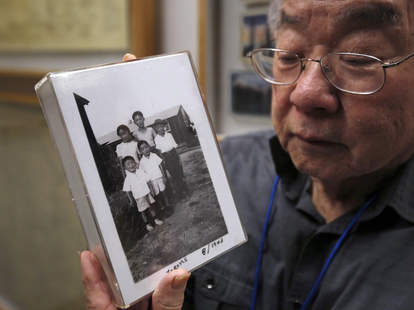 More than a century after the earliest law discriminating against Japanese Americans was passed in California, the state's lawmakers unanimously apologized on Thursday for helping the U.S. government intern Japanese Americans during World War II.
This week, Gov. Gavin Newsom (D) also designated Feb. 19 as a Day of Remembrance, joining other states including Idaho and Arkansas, to recognize the date in 1942 when President Franklin D. Roosevelt signed an executive order authorizing the forced removal of anyone of Japanese descent from their homes. The California Assembly's resolution did not include any monetary reparations, the AP reported.
"A decision motivated by discrimination and xenophobia, the internment of Japanese Americans was a betrayal of our most sacred values as a nation that we must never repeat," Newsom said in the resolution on Wednesday.
Roosevelt's 1942 order of internment came about two months after the Japanese surprise attack on Pearl Harbor. During that period, the government deemed more than 122,000 people of Japanese descent — 70,000 of whom were American citizens — as a threat to national security, and then imprisoned them in 10 camps across seven U.S. states, including Wyoming, Colorado, Idaho, Utah, Arizona, and Arkansas.
Al Muratsuchi, a Japanese-born Democrat who introduced the resolution, has drawn parallels between what happened during World War II to what immigrants are facing today in the U.S.
"Not just the fearmongering rhetoric talking about the caravan [of migrants from Central America] or the images of children and families being held in cages, but we see what's happening to Muslim Americans," Muratsuchi told NPR. "You know, after Pearl Harbor, the fear of the 'other' focused on Japanese Americans as potential spies; today, ever since 9/11, that same fear of the other has been focused on Muslim Americans as potential terrorists."
The resolution cites a range of past federal and state laws that targeted people of Japanese descent. The earliest law mentioned is the 1913 California Alien Land Law, which prohibited immigrants from various parts of Asia from purchasing and leasing land in California.
"The Assembly apologizes to all Americans of Japanese ancestry for its past actions in support of the unjust exclusion, removal, and incarceration of Japanese Americans during World War II, and for its failure to support and defend the civil rights and civil liberties of Japanese Americans during this period," the resolution says.
California is home to the country's largest number of people of Japanese descent, with a population of more than 430,000.