California Becomes First State to Ban Nonconsensual Condom Removal
Governor Newsom (D-CA) signed a new bill into law on Thursday that considers "stealthing" a civil offense, the first law of its kind in the U.S.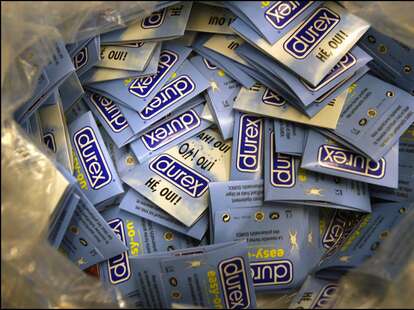 California Governor Gavin Newsom signed a bill into law on Thursday that will ban "stealthing," which is defined as the act of removing a condom during intercourse without a partner's consent.
California is the first state in the U.S. to enact such a law, according to NPR. If performed nonconsensually, condom removal during sex will be considered sexual battery. People who are victims of the act can also sue for punitive damages.
After signing the bill into law, the governor's office tweeted that the new measure underlines "the importance of consent."
Assemblywoman Cristina Garcia, who sponsored the bill, said it was passed without opposition by the Assembly and Senate in August. Garcia commended the progressive law, stating, "I have been working on the issue of 'stealthing' since 2017 and I am elated that there is now some accountability for those who perpetrate the act. Sexual assaults, especially those on women of color, are perpetually swept under the rug."
In response to the new measure, Garcia tweeted, "Glad that CA is leading for the nation on stealthing. 1 state down, 49 to go."
Garcia said she got the idea to write the bill in 2017 after reading a law article highlighting the issue written by Alexandra Brodsky, a student at the time, entitled "'Rape-Adjacent': Imagining Legal Responses to Nonconsensual Condom Removal." Brodsky's article has been credited for igniting a larger conversation about the often-ignored issue.
Brodsky, who is now a civil rights attorney, also authored the book "Sexual Justice," in which she discusses the grey area surrounding stealthing, since it can occur in the context of consensual sex, and the victim blaming that results from the act.
Brodsky told NPR, "The experience of realizing that your partner, your sexual partner, has no concern for your autonomy, your individual dignity, your right to make decisions about who you have sex with, when and how ... That's a terrible violation regardless of whether a physical injury occurs, regardless of whether a pregnancy occurs."
Results from a 2018 survey of patients at a Melbourne, Australia, sexual health clinic indicates that more than 32% of women and 19% of men claim to have experienced stealthing.
Governor Gavin Newsom also signed a bill into law on Thursday that removes spousal exemption in cases of rape, which was sponsored by Assemblywoman Garcia.