Cambridge Dictionary's Word of the Year Is "Quarantine"
The runners-up were, unsurprisingly, "lockdown" and "pandemic."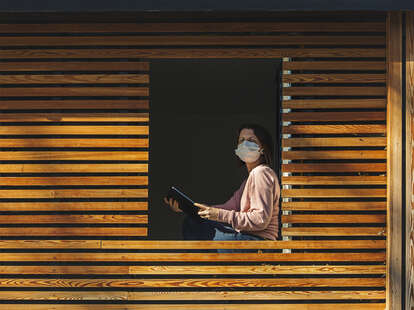 Cambridge Dictionary has announced its 2020 Word of the Year: "quarantine."
The top word, which sadly is not a shock, was chosen based on data that showed that it was one of the most highly searched words this year.
"Quarantine was the only word to rank in the top five for both search spikes and overall views (more than 183,000 by early November), with the largest spike in searches (28,545) seen in the week of March 18-24 , when many countries around the world went into lockdown as a result of Covid-19," a release on the word of the year said.
According to a report by Language Magazine, Cambridge Dictionary editors also tracked how people are using the word and discovered the emergence of a new meaning: "a general period of time in which people are not allowed to leave their homes or travel freely, so that they do not catch or spread a disease."
The new meaning has been added to the dictionary, below the primary definition: "a specific period of time in which a person or animal that has a disease, or may have one, must stay or be kept away from others in order to prevent the spread of the disease."
"The words that people search for reveal not just what is happening in the world, but what matters most to them in relation to those events," Cambridge Dictionary publishing manager Wendalyn Nichols told Language Magazine.
Interestingly enough, neither "coronavirus" nor "COVID-19" appeared in the dictionary's top searches this year.
"We believe this indicates that people have been fairly confident about what the virus is," the release said. "Instead, users have been searching for words related to the social and economic impacts of the pandemic, as evidenced not just by quarantine but by the two runners-up on the shortlist for Word of the Year: lockdown, and pandemic itself."
Past Word of the Year winners by Cambridge Dictionary include 2019's "upcycle" and 2018's "nomophobia."