Paid Content For

Can Cultivated Meat Save The Planet?
NowThis went inside the first facility in the U.S. to receive FDA approval of lab-grown chicken for human consumption.
Paid Content For

UPSIDE Foods received FDA approval for its chicken, which is made from the cells of an actual chicken and cultivated in a lab. NowThis went to the company's facility to see it for ourselves.
Its headquarters is located in Berkeley, CA, and is the first U.S. facility of its kind to receive FDA approval. It's now waiting for final approval from the USDA before its chicken can be sold in stores.
CEO Uma Valeti believes lab-grown meat, or cultivated meat as it's being labeled, is safe, healthy, and sustainable.
"What we do with cultivated meat is we take real healthy chicken cells from either eggs or birds, like a chicken that's growing up," Valeti told NowThis. "We don't have to kill the chicken for it. That's the beauty. Take a few cells and let the cells grow outside the chicken. In very similar containers like this, we feed them with nutrients that are very clean and things that we are very familiar with, like fats, and sugars, and proteins, and vitamins, and minerals."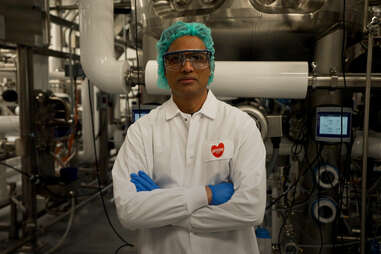 In the early stages of the process, the product initially looks like syrup. But within 2 to 3 weeks, it forms into a tissue that resembles the texture of a natural chicken breast.
Lab-grown meat has gained popularity as a sustainable alternative to industrial livestock farming, which is known for animal cruelty and its greenhouse gas emissions. It could also stem the demand for traditional meat production, which is the main driver of deforestation in places like the Amazon, according to the World Wildlife Fund.
In May 2022, a study projected that if we replaced approximately one-fifth of global beef consumption with a meat alternative known as microbial protein, over the course of the next 30 years, we could cut deforestation in half. This suggests that switching to lab-grown meat could reap similar benefits.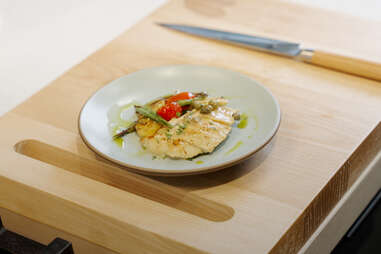 Livestock farming accounts for 16.5% to 28% of all greenhouse gas pollution, according a study published by the journal Sustainability. Lab-grown meat could reduce pollution by 87% to 96%. That figure comes from a study that compared lab-grown meat with beef and another that compared lab-grown meat with beef, pork, and sheep meat. However, when it comes to energy demand, one of those studies showed that lab-grown meat actually used 35% more industrial energy than conventionally farmed beef.
Once UPSIDE Foods' chicken hits the market, consumers will be paying a premium for it; the pricing is expected to be similar to organic food. But Valeti said it'll eventually level out in the next 5 to 10 years.
After UPSIDE Foods gets USDA approval, the company will first sell the meat directly to a select number of restaurants while the company ramps up production. From there, Valeti expects consumers will be able to directly purchase the meat in grocery stores in 2025 at the earliest.
So, can lab-grown meat save the planet?
There are several studies suggesting it can. Even the 2022 IPCC report found that it could help reduce the global emissions from food production.