CDC Confirms COVID-19 Particles Can Linger In The Air For Hours & Go Beyond 6 Feet
The CDC confirmed that COVID-19 is transmittable through the air, but clarified that spreading the virus through close contact is much more common.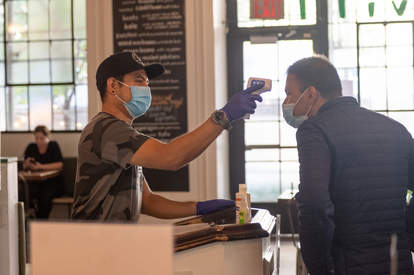 The Centers For Disease Control and Prevention updated its COVID-19 guidelines on Monday, adding that the virus can be spread through airborne transmission, after flip flopping on its guidance over the last several weeks.
In its latest update, the CDC wrote that the virus can be transmitted through small droplets and particles that can "linger in the air for minutes to hours." The agency also said these particles could infect people who are standing further than six feet apart as well as after the infected person has left the area. 
The guidelines also state that while COVID-19 "sometimes spreads" through airborne transmission, the virus most commonly spreads through close contact.
"There is evidence that under certain conditions, people with COVID-19 seem to have infected others who were more than 6 feet away," the CDC wrote. "These transmissions occurred within enclosed spaces that had inadequate ventilation. Sometimes the infected person was breathing heavily, for example while singing or exercising."
 
The CDC compared the airborne transmission of COVID-19 to that of other diseases, including tuberculosis, measles, and chicken pox.
At the end of September, the CDC deleted a COVID-19 update with similar information about the risk of airborne spread, saying it was posted "in error." While the deleted information is near-identical to Monday's update, the earlier version said "this is thought to be the main way the virus spreads." 
Scientists have formally requested major public health bodies, including the World Health Organization, acknowledge that COVID-19 isn't solely transmitted person-to-person via large respiratory droplets.
The CDC continued to encourage people to stay six feet apart from others, wear a facial covering, wash your hands frequently, and to avoid crowded indoor spaces whenever possible.