Celebrities Pay Tribute to Kobe Bryant at the Grammys
It was an emotional night at the 62nd annual Grammy Awards, which were held on same day as Kobe Bryant's death.
It was an emotional night at the 62nd annual Grammy Awards, as celebrities gathered on the same day as Kobe Bryant's death.
Sunday night's award show was filled with tributes to the late basketball player, who gained popularity  in the very arena where the Grammys were held—The Staples Center in Los Angeles. Bryant and his 13-year-old daughter Gigi were killed in a helicopter crash on Sunday morning in Calabasas, CA. There were nine people in total involved in the crash, and none survived. 
Many stars at the Grammys had known Bryant as friend and colleague, and paid tribute to him throughout the night. Below are some of the highlights:
 
1. Lizzo kicked off the show with an explosive performance of her song, Cuz I Love You, and started with "This is for you Kobe."
2. Host Alicia Keys then gave a somber opening speech, addressing the sadness everyone was feeling.
3. Keys also brought out Boyz II Men and performed a song in his honor.
'We're literally standing here, heartbroken, in the house that Kobe Bryant built' — Alicia Keys and Boyz II Men gave this emotional performance to honor the late NBA star pic.twitter.com/s3ixDBSmsb

— NowThis (@nowthisnews) January 27, 2020
4. Run DMC and Aerosmith performed together and held up Bryant's jersey at the end.
5. Lil Nas X started his performance with Bryant's jersey prominently displayed on the seat next to him.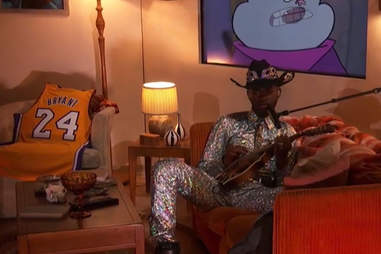 CBS
6. Bryant's jerseys, which are hanging in the Staples Center, were illuminated throughout the night.
7. DJ Khaled, John Legend, and Meek Mill performed a tribute to the late rapper Nipsey Hussle, and dedicated the song to both Nipsey and Bryant.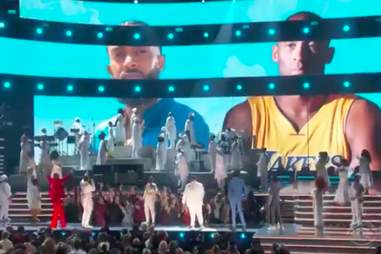 CBS