Celebrities Are Saying #FreeBritney After Doc Spotlights Pop Star's Complex Life
Sarah Jessica Parker, Bette Midler, and Kacey Musgraves are some celebrities who have promoted the #FreeBritney movement after "Framing Britney Spears" premiered in February.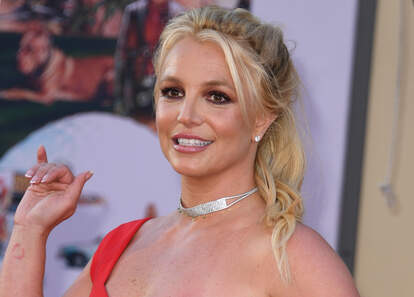 Celebrities are rallying support for superstar entertainer Britney Spears after a new documentary shed light on the strict conservatorship that has given her father control over her life and finances for more than a decade. The documentary comes after fans started the "Free Britney" movement in 2019 alleging that Spears' father has outsized authority over her decisions, even as she has been earning millions as a performer.
The New York Times documentary "Framing Britney Spears," which aired February 5, on FX and Hulu, has brought renewed attention to the complexity of the pop star's career and personal life, centering around the court-ordered conservatorship that has been in place since 2008 (when Spears was 26, and widespread speculation focused on her mental health).
Under the conservatorship agreement, Spears' father Jamie Spears and lawyer Andrew Wallet were long in charge of her finances and professional decisions. (Wallet resigned in 2019, making Jamie sole conservator.) In November 2020, a Los Angeles judge denied Spears' appeal to remove her father as conservator, but effectively allowed for future bids to remove or suspend him, according to multiple reports.
The documentary shows footage of Spears being harassed relentlessly by paparazzi in the early 2000s, as well as interviews of the young performer being questioned about her sex life and criticized for not being a role model to young children. The documentary also leads into the widespread speculation about Spears' mental health following the birth of her two children and divorce from Kevin Federline, which ultimately led to the conservatorship. The documentary showed how Spears was mocked and criticized by the public during that time.
Several interviewers shown in the documentary, including veteran journalist Diane Sawyer, have come under fire for the way they treated Spears during on-camera interviews. In a clip from a 2003 ABC "Primetime" interview, Sawyer asked Spears, then 21, "What did you do?" in regards to her breakup with ex-boyfriend Justin Timberlake. Sawyer also seemingly defended then-first lady of Maryland, Kendel Ehrlich, who said if she had the opportunity, she would "shoot Britney Spears." Sawyer said Ehrlich made the comment "because of the example for kids."
Many people also criticized Timberlake for "capitalizing" on their breakup as he launched his solo music career.
Soon after the documentary aired, several celebrities joined the #FreeBritney movement and showed their support of the 39-year-old superstar:
Sarah Jessica Parker