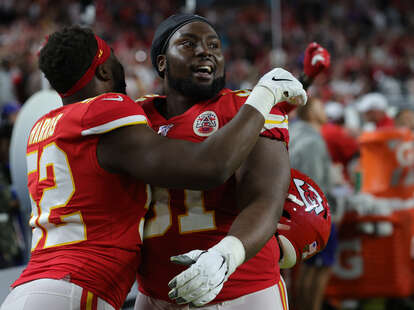 Getty Images
Getty Images
The Kansas City Chiefs players celebrated their Super Bowl LIV win in different ways. Quarterback Patrick Mahomes went to Disney World, while defensive lineman Derrick Nnadi helped a bunch of dogs find forever homes.
To celebrate his team's 31-20 victory over the San Francisco 49ers, Nnadi said he would pay the adoption fees for every single adoptable dog in KC Pet Project locations on Sunday. The no-kill shelter in Kansas City cares for over 10,000 animals a year.
"Our community is so excited right now with the Chiefs win and this is such a heartwarming story to add to our city's excitement," KC Pet Project's chief communications officer, Tori Fugate told The Washington Post.
A spokesperson told ESPN that adoption fees at Kansas City Pet Project normally run about $150 and that 10 dogs are typically adopted on an average workday. But through Nnadi's program, 20 dogs have already been adopted as of Monday afternoon.
During the regular season Nnadi also sponsored a program in which he paid the adoption fee for a hard-to-adopt pup after every Chiefs victory. He also linked tackles he made during the season with fundraising efforts for the Boys & Girls Clubs of Greater Kansas City.