China's Air Pollution Levels Are Rebounding After Dropping During Lockdown
The county's air pollution levels, which plummeted during its lockdown, have now "overshot their pre-crisis levels," according to a new study.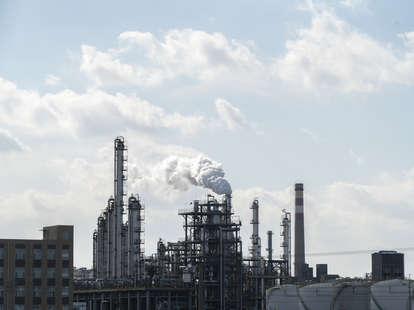 Zhang Peng/LightRocket via Getty Images
Zhang Peng/LightRocket via Getty Images
China's air pollution levels are increasing as the country reopens its economy. During its coronavirus-related lockdown, which halted traffic and various polluting industries, the country saw a significant drop in CO2 emissions — but climate scientists warned those decreases were temporary.
According to a new study by independent research organization Centre for Research on Energy (CREA), air pollutants in the country have exceeded their levels at the same time last year for the first time since the coronavirus outbreak started. The study analyzed current pollutant levels between April and May compared to pollutant levels during lockdown, and also compared the levels to the same period last year.
"Air pollutant levels plummeted during the national lockdown in February, bottomed out in early March and have now overshot their pre-crisis levels," CREA said in the study.
The study said it was assumed that resuming production and transport would cause more air pollution to return. But the rising emissions level may notably signify that the country's most polluting industries are leading its economic restoration, resulting in a "'dirty' recovery."
"Rebounding air pollutant levels are a demonstration of the importance of prioritizing green economy and clean energy in the recovery from the COVID-19 crisis," the study reads. "All eyes are on China, as the first major economy to return to work after a lockdown."
After strict lockdowns, China has begun easing restrictions in major cities across the country including Beijing and Shanghai as well as Wuhan, where the virus was first detected last year. The country has also reintroduced restrictions in areas including the northeastern city of Shulan, where officials reported a cluster of COVID-19 cases.
Though social distancing measures have led to improved air quality in some countries, climate scientists have warned that the emissions drops are temporary, and that lawmakers and consumers would have to make concerted efforts to truly make a lasting difference.
"In terms of direct, physical impacts, yes we're seeing a slowdown in some emissions," University of Wisconsin-Madison climate scientist Andrea Dutton told National Geographic in April. "But of course, what really matters is cumulative emissions. If it's short lived, it's not really touching the tip of the iceberg."