Chinese Media Goes After Fauci As Biden Ramps Up Call To Investigate COVID-19 Origins
Chinese state-run media said Fauci is joining America's "opinion war against China" after he said he's "not convinced" COVID-19 developed naturally.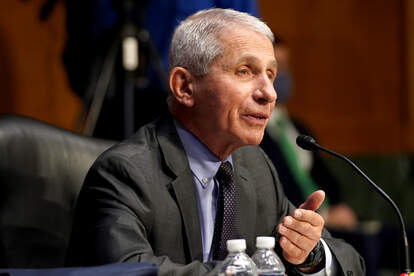 China's state-run media is accusing Dr. Anthony Fauci of "betraying" Chinese scientists after he recently said he's "not convinced" COVID-19 developed naturally and reiterated the need for continued investigations into the coronavirus' origin.
The Global Times published a scathing opinion piece on Tuesday by editor-in-chief Hu Xijin, that said Fauci was echoing America's "opinion war against China."
"Fauci attempted to hype the old and groundless narrative that the virus was leaked from a lab in Wuhan," Hu wrote.
The leading infectious disease expert made the remarks to PolitiFact's managing editor Katie Sanders on May 11.
"I am not convinced about that, I think we should continue to investigate what went on in China until we continue to find out to the best of our ability what happened," Fauci said. "Certainly, the people who investigated it say it likely was the emergence from an animal reservoir that then infected individuals, but it could have been something else, and we need to find that out."
Fauci added that the unknown origin of the virus is why he's "perfectly in favor" of a further investigation. President Joe Biden said in a statement Wednesday that he ordered U.S. intelligence to "redouble" efforts to investigate the origins of COVID-19 and report back to him in 90 days.
On Sunday, Fauci told CBS News that his "opinion about the origins of COVID-19 have not changed" and that he still believes it's "highly likely" the virus developed naturally.
Folks in China still aren't pleased.
Another post on the state-run Global Times said Fauci had "betrayed scientists" and further said the U.S. is "hyping up conspiracy theories."
In his opinion piece, Hu referenced a recent Wall Street Journal report that said three researchers from China's Wuhan Institute of Virology were hospitalized with symptoms consistent with COVID-19 in November 2019 — one month before the first official reported case of the virus. The information came from a U.S. intelligence report, according to the Journal.
Chinese officials have repeatedly denied any possibility of a "lab leak" origin for COVID-19, including a director at the Wuhan Institute of Virology, who called the report "a complete lie."
"This is a blatant lie, a conspiracy created by US intelligence agencies and the media outlet to slander China, and China has denied it," Hu continued, referring to the Journal report. "Rumors and slander against China can be seen everywhere in the US media, and politicians lie about China without any bottom line."
Earlier this year, a team of researchers led by the World Health Organization traveled to China to conduct an initial investigation into the virus' potential origins. Their report, released in March 2021, classified the possibility of a lab leak origin as "extremely unlikely." However, scientific experts and the international community have criticized that investigation due to China's perceived lack of transparency and full cooperation with the investigation.
After that report was released, a group of scientists and academics penned a letter to the WHO demanding further investigation into the cause of the pandemic, including a deeper probe into the lab leak theory.