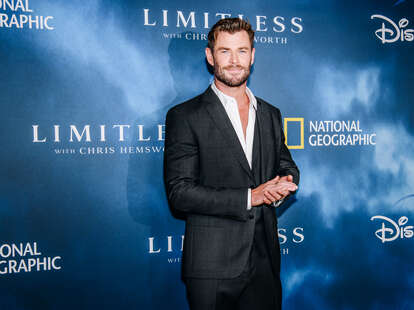 Chris Hemsworth made a shocking discovery regarding his health while filming his National Geographic show, "Limitless." In one of the episodes, he took a genetic test and learned he has 2 copies of the gene APOE4, meaning there is an increased chance of developing Alzheimer's disease.
"The idea that I won't be able to remember the life I've experienced or my wife, my kids, this is probably my biggest fear," Hemsworth said when he learned the news.
According to the National Institute of Aging, approx 25% of people carry one copy of APOE4 and 2-3% carry two copies, one APOE allele each from their biological parents. Hemsworth has a set of APOE4 from his mom and a set from his dad.
It hasn't been reported whether his parents have the disease as well, but his grandfather does have Alzheimer's. He described his grandfather's struggle in not remembering "who we are, you know his grandkids, but also his own children he forgets. It's heartbreaking."
There is currently no cure for Alzheimer's disease, but doctors suggest exercising, managing blood sugar, and maintaining a healthy weight help to reduce the risk of developing the disease.
The "Thor" actor told "Good Morning America" that "whatever I'm going to do now to benefit and protect myself from brain health will benefit every aspect of my health and well-being."