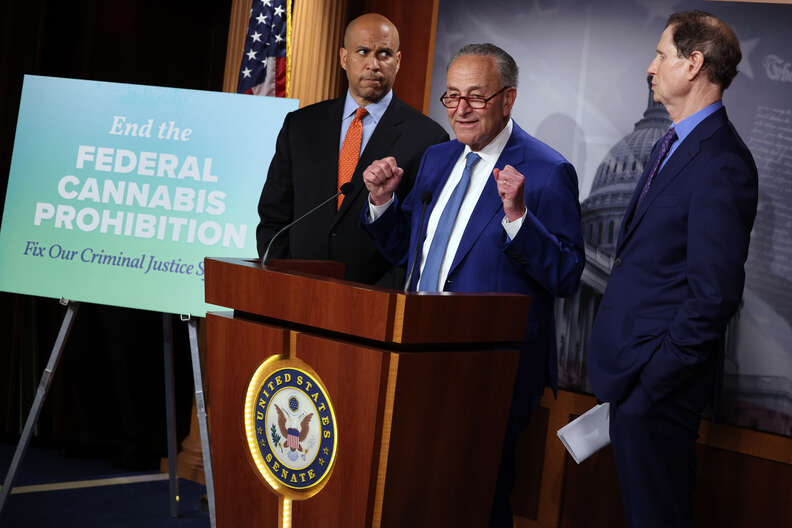 Senate Majority Leader Charles Schumer (D-NY) (C), joined by Sen. Cory Booker (D-NJ) (L) and Sen. Ron Wyden (D-OR), speaks at a press conference on introducing legislation to end federal cannabis prohibition at the U.S. Capitol on July 14, 2021 in Washington, D.C.

| Getty Images
Senate Majority Leader Charles Schumer (D-NY) (C), joined by Sen. Cory Booker (D-NJ) (L) and Sen. Ron Wyden (D-OR), speaks at a press conference on introducing legislation to end federal cannabis prohibition at the U.S. Capitol on July 14, 2021 in Washington, D.C.

| Getty Images
Senate Majority Leader Chuck Schumer (D-NY), along with Sens. Cory Booker (D-NJ) and Ron Wyden (D-OR) unveiled a draft plan to decriminalize cannabis at the federal level by removing it from the list of controlled substances. The prohibition of weed has disproportionately affected Black communities and people of color for decades.
The three senators held a press conference Wednesday to introduce their legislative draft entitled the Cannabis Administration and Opportunity Act. The draft includes a plan to decriminalize cannabis nationwide, along with expunging non-violent cannabis offenses and allowing a person serving prison time for a related offense to petition for resentencing. Funds from legal cannabis revenue will also be reallocated to communities deemed the "most impacted" by federal drug laws.
"At long last, we are taking steps in the Senate to right the wrongs of the failed War on Drugs," Schumer said. "I will use my clout as majority leader to make this a priority in the Senate."
Schumer also said the decriminalization act would "help put an end to the unfair targeting and treatment of communities of color."
"We've all seen the agony of a young person arrested with a small amount of marijuana in his or her pocket," Schumer continued. "And because of the historic over-criminalization of marijuana, they have a very severe criminal record they have to live with their whole lives."
According to a Pew Research poll published in April, 91% of Americans think that cannabis should be legalized for either recreational or medical use. The approval of legal weed has become a popular opinion in recent years, and state legislatures agree: 18 states and Washington, D.C. have legalized weed for adult recreational use, while 37 states have legalized it for medical use.
At the end of 2020, New Jersey, Arizona, South Dakota, and Montana voted to legalize weed. Oregon also voted to allocate its cannabis industry funds toward addiction treatment centers. The House of Representatives also passed the Marijuana Opportunity Reinvestment and Expungement Act, or MORE Act, in December 2020, which would decriminalize cannabis, paving the way for states to reschedule or legalize the drug on their own. The act never passed in the Senate but was reintroduced in May.
Because of the MORE Act's failure within the Senate, it's unclear if the Cannabis Administration and Opportunity Act will succeed, or if President Joe Biden will endorse the federal policy.
If passed, cannabis regulation would be moved to the Alcohol and Tobacco Tax and Trade Bureau and the Food and Drug Administration, according to the draft document. The tax revenue from legal weed would also "support restorative justice and public health and safety research."