Paid Content For

Put On Your Walking Shoes: It's Time for City Girls Who Walk to Take to the Streets
The walking group was inspired by the TikTok trend "hot girl walks."
Paid Content For

As the pandemic went on and more people became cooped up while working from home, the TikTok trend of "hot girl walks" went viral. Women were prioritizing their mental and physical health with long walks around their neighborhoods. But for Brianna Kohn, one thing was missing: friendship.
Kohn created the exercise club City Girls Who Walk in March 2022, with the mission of helping women make friends and find community in a fun and active way. When she first posted about the idea on TikTok, she had no idea the impact it would have. More than 250 women showed up for the first walk. Now, the weekly walks can garner up to 600 participants.
The club has also expanded globally, with locations in Boston, Chicago, and even one in Germany.
"I cannot tell you how many people ask if this is a protest," Kohn told NowThis. "It's crazy. We take over, but it's amazing. And people always wanna join when they see it."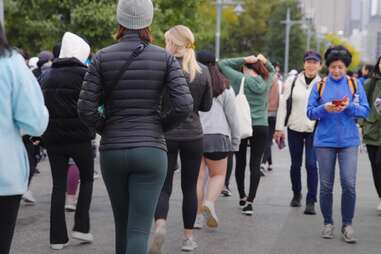 The concept of the group is centered around showing up solo and leaving with new friends. City Girls Who Walk is enabling women to not only exercise, but to make friends to dine with, travel with, and make memories with.
Once the walk is over, Kohn said she typically sees people making plans. "I always say after the walk, 'Feel free to leave,'" Kohn said. "I see them all staying around. Talking and hanging out, being like, 'Where should we go next?' So that's been really awesome."
"City Girls has helped me personally by just being a little bit more extroverted, meeting new people every single time I come to the walks," participant Khadijah Red said. "It's really good for getting me out of my comfort zone. I'm starting a kind of new wellness journey. So just by walking, I get my steps in. It's healthy, it's in a comfortable and safe environment. So it's been amazing so far."
"The most rewarding thing about City Girls Who Walk is building a community within the city and getting to talk to so many different people and learn more about the city," participant Rebecca Gleeson said. "It's just a very enjoyable experience, and I'm really glad to be a part of it."