Colorado Abolishes The Death Penalty
Three men who were on death row will now spend life in prison without the possibility of parole.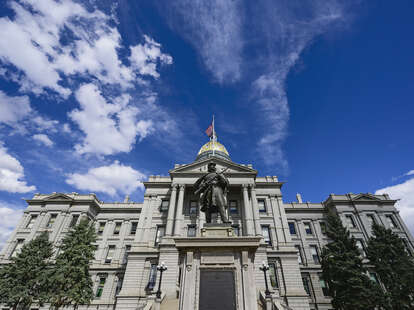 Getty Images/Colorado State Capitol
Colorado has abolished the death penalty, becoming the 22nd state to get rid of capital punishment since it was federally reinstated in 1976.

Gov. Jared Polis (D) on Monday signed the state's death penalty repeal SB20-100. He also commuted the death sentences of three people he called "despicable and guilty individuals" in hopes of "moving forward."
"While I understand that some victims agree with my decision and others disagree, I hope this decision provides clarity and certainty for them moving forward," Polis continued in a prepared statement. "The decision to commute these sentences was made to reflect what is now Colorado law, and done after a thorough outreach process to the victims and their families."
Following the bill's signing, the three men, Robert Ray, Sir Mario Owens, and Nathan Dunlap, will instead spend the rest of their lives in prison without the possibility of parole.
Colorado's House of Representatives approved the bill with a 38-27 vote on February 26. Democratic Reps. Kyle Mullica, Brianna Titone, and Tom Sullivan, whose son was killed in the 2012 Aurora theater shooting, opposed the bill.
Colorado's last execution took place in 1997 when Gary Lee Davis, who was convicted of kidnapping, raping, and fatally shooting a woman, was given a lethal injection.