Congress' Stimulus Checks: When I Can Expect Mine?
Around 125 million Americans are due to receive checks from the government.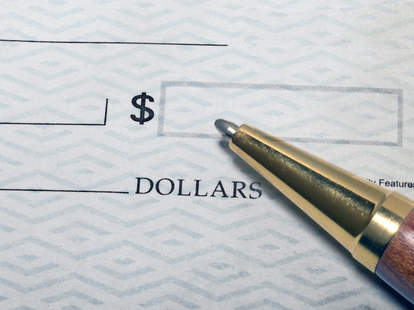 Following passage of a $2 trillion stimulus bill, many Americans can expect a check or direct deposit from the government to help offset the financial strain they may be feeling.
Who qualifies for the relief money?
The expected payments will be $1,200 for individuals, $2,400 for married couples, and $500 for children—but Americans must meet certain qualifications to receive the payments, based on the gross income in their 2018 or 2019 tax returns. Tax expert Kyle Pomerleau of the American Enterprise Institute
estimates that
"roughly 125 million people will receive a check, or about 83 percent of tax filers."
Individuals making more than $75K, heads of the household making $112.5K or couples who filed jointly making more than $150k will receive less money depending on their exact income. Individuals making over $99K won't qualify at all.
The government will decide people's qualifications based on 2019 tax returns, and if you haven't filed those yet, it will be based on the 2018 tax returns.
According to a CNBC report, other people who wouldn't qualify for the payments include estates or trusts, individuals whose deductions can go to another taxpayer, and "nonresident aliens." To receive the payments you also must have a valid social security number. If you have no income or rely on non-taxable government programs like Supplemental Security Income benefits, or SSI, from Social Security, you are still eligible.
Along with the payments, the CARES act offers unemployment insurance for workers who lost their jobs in the crisis, $350 billion in loans for small businesses, and $500 billion in aid to large corporations that have been stymied because of the pandemic.
When will people receive their checks from the government?
Trump's Treasury Secretary Steve Mnuchin said that eligible Americans can expect to see their checks by April 17. However, the Washington Post reviewed a timetable from the IRS,
and says
some Americans might receive checks as late as September, depending on their income and if they provided contact info to the IRS. The Treasury Department President has also ordered that Trump's name appear on the printed checks—
which could potentially cause delays
.
In 2008 during the financial crisis, Americans also received checks from the federal government as part of a $800 billion in relief effort. Those payments were doled out in batches and the Post notes that it took "about eight weeks for the final people to receive their checks."
It's possible there will be a second round of relief payments if needed; Trump and Congress haven't shut the door on that option yet.
Is there a catch?
The government payments will not be taxable. The only catch is that the amount given is based off of a person's 2019 or 2018 tax returns. If the amount varies significantly from that person's 2020 income, it is possible that they may have to pay back some of the money in the future—though it wouldn't be until April 15 2021.