Stocks Are Plummeting Because of Coronavirus Fears— Here's What You Should Know
The economic panic is tied to a fear that global supply chains will buckle, as the outbreak has reached 49 countries outside China.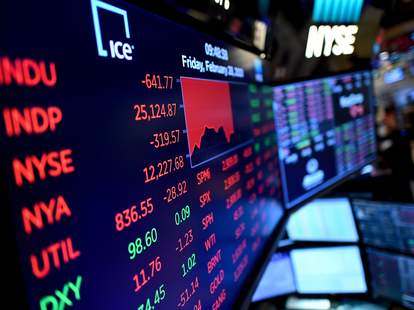 Stock markets around the world continued to plummet Friday as fears over the novel coronavirus' spread across the globe.
All major U.S. indexes, including the Dow Jones, S&P 500, and Nasdaq continued to log losses for a seventh consecutive day, and the Dow and S&P reportedly each capped their worst week since the 2008 financial crisis. The indexes have entered a "correction" — a common term which means that markets have dropped more than 10% from their recent peaks. Markets in Europe and Asia, which have comparatively been more affected by the virus, saw similar drops of more than 3%.
 
In the U.S., the "VIX" fear index, which mirrors stock volatility, is often seen as a metric for overall investment risk. It hit 39.5 yesterday — its highest level since 2015. 
The business panic is tied to a fear that global supply chains will buckle, as the outbreak has reached 49 countries outside China, the world's second-largest economy where the virus first originated. But observers have tried to allay investors' fears by pointing out that short-term fallout won't necessarily affect the long-term health of their stocks. 
Related coverage:
While it's uncertain just how much the coronavirus will continue to spread, or how soon treatment will be available, the global capacity to respond to the virus, which health officials have warned could become a pandemic, does look bleak. Hospitals around the world are reportedly unprepared to handle the potential outbreaks. Japan announced on Thursday that schools are closed nationwide for at least a month. 
One of the world's biggest companies, Facebook, announced the cancellation of its annual developers conference in San Jose, a day after California Gov. Gavin Newsom announced the first non-travel-related case of coronavirus in the U.S. 
A rare business winner is Clorox, which saw its shares skyrocket to never-before-seen heights. (P.S. One of the most effective things you can do is wash your hands, according to the doctor we interviewed).
In the U.S., President Trump, who has pinned much of his reelection messaging to voters on the health of the economy, this week appointed Vice President Mike Pence to oversee the country's coronavirus response. That decision attracted criticism because of Pence's history with mishandling the containment of infectious diseases or other public health problems, which included the biggest HIV outbreak in Indiana during his governorship.
As of Friday, there are nearly 79,000 cases of the novel coronavirus detected in China, which has led to nearly 2,800 deaths, according to the World Health Organization. In other countries, there have been at least 4,350 cases and more than 60 deaths.
This post has been updated after market close.