Coronavirus Cancellations: Here's the List
From a public health perspective, canceling events is actually be a good thing.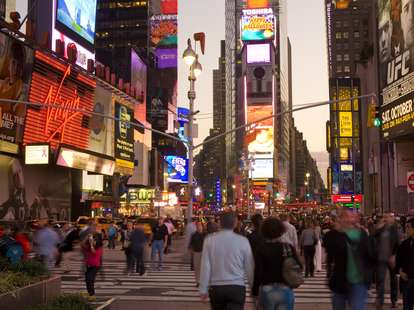 Getty Images
Getty Images
The coronavirus pandemic has forced waves of cancellations for everything from major sports games (even full seasons) to parades and political events. It's a lot to keep up with, so we broke down a list of everything we know so far.
From a public health perspective, canceling events can actually be a good thing. Many experts have been encouraging "social distancing," as the CDC says the virus can be transmitted between people in close contact (within about 6 feet). Most colleges and universities have called off classes or switched to online meetings, and various corporations and offices are rolling out work-from-home policies. Elected officials have also banned large gatherings in cities including New York and California.
But experts continue to emphasize: It is important to stay calm.
Below is a list of major events and occasions that have been canceled because of the concerns over the spread of coronavirus.
Arts & Culture
Austin's SXSW Conference & Festivals announced on March 6 that its March dates were canceled
Coachella Arts & Music Festival postponed dates to October
The StageCoach Festival was also postponed to October

(All tickets for the April events will be honored for the October dates, and people will be told by March 13 how to get a refund if they can't make the new dates.)

New York City's Broadway theaters is closed until April 12
All Smithsonian museums in Washington, D.C., and New York City, as well as the National Zoo, closed starting March 14.
The Louvre museum in Paris is closed until further notice.
Live Nation and AEG Presents suspended all tours in North America.
MGM Grand, Wynn and Venetian postponednightclub operations and residency shows.
Miami's Ultra Music Festival canceled.
Tribeca Film Festival is postponed (originally scheduled for April 15 - 26).
Movie releases delayed: F9, No Time to Die, A Quiet Place Part II, Mulan, The New Mutants, and Peter Rabbit 2: The Runaway.
E3 Gaming Convention scheduled for June 9-11 has been canceled.
LA Pride scheduled for June 12-14 is canceled
Ellis Island, Statue of Liberty, and Empire State Building observatory temporarily closed.
The MET Gala scheduled for May 4 is postponed indefinitely.
The Eurovision Song Contest 2020 is canceled.
Glastonbury in the UK, originally set for June 24-28, has been canceled.
New Orleans Jazz and Heritage Festival scheduled for April and May, postponed.
The Rolling Stones postponed their tour indefinitely.
The 2020 Tony Awards postponed, originally scheduled for June 7.
The Fringe Festival in Edinburgh is canceled.
Parades
Live-audience TV shows suspending production/ Taping without an audience
"The Late Show with Stephen Colbert" suspending production and plans to return March 30
"The Daily Show with Trevor Noah"
"The Ellen DeGeneres Show" suspending production.
"The View"
"Live with Kelly and Ryan"
"Full Frontal with Samantha Bee"
"Watch What Happens Live! with Andy Cohen"
"Last Week Tonight With John Oliver"
"Dr. Phil"
"Jeopardy"
"Wheel of Fortune"
"The Tonight Show Starring Jimmy Fallon" and "Late Night with Seth Meyers" have suspended all production at least through March 30.
Los Angeles-based shows like "Jimmy Kimmel Live" and "Late Late Show with James Corden" have not announced their plans on whether they'll go audience-free yet.
NBC's "Saturday Night Live" will suspend production for three weeks.