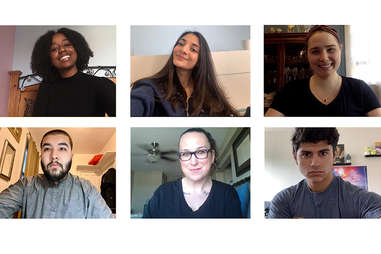 Congratulations, class of 2020. It was an unconventional way to end the year, to say the least.
As the pandemic escalated in the U.S. this spring, colleges were forced to close, send students home, and move classes online. As the semester ended, it became clear that many graduating seniors wouldn't experience the moment of crossing the stage at a ceremony. In lieu of traditional events, virtual commencement and digital yearbooks have popped up as a means for final-year students to celebrate.
In the "real world," job prospects are looking grim. The coronavirus outbreak has led unemployment in the U.S. to hit its highest level since the Great Depression. Comparisons to the 2008 recession are running amok, and colleges are debating whether students can even come onto campus this fall. Observers wonder if the crisis will completely upend higher education.
For new graduates, getting any work experience can be the most important move — even if it's not a dream job. As a management professor at the University of Pennsylvania told the Wall Street Journal, it's key to "get on the train," and to recognize any opportunity as valuable. Even for those lucky enough to land entry-level jobs, it's fairly likely new-hire orientation will happen remotely — and lots of gigs may be unavailable, highly competitive, or out of reach. If you do end up bringing in an income, learning how to manage money in a chaotic environment can be tricky.
The ability for anyone to survive this virus has largely been dictated by class and race, and graduating without economic or social stability can be a scarcely different experience. NowThis spoke with a dozen students about what it's like to graduate right now. Below are excerpted versions of six of their interviews.

Mohammad Suleman, studying psychology and political science at Rutgers University in Newark, New Jersey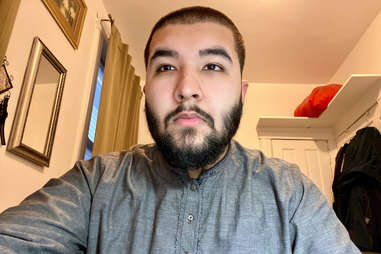 Mohammad Suleman had planned on a trip back home to Pakistan for at least six weeks after graduation, before getting a corporate job in tech or finance. Those plans still fit into a larger purpose.
"My eventual goal down the road was to start NGOs, start charity organizations, and start from my village back home amongst my people," he said. Suleman drew parallels to current events when describing the types of organizations he's talking about — for example, the Red Cross in the United States or the Red Crescent in Pakistan. Before the crisis, he said, people may have assumed those organizations were futile, just collecting funds. Now we need them. Of his future organization, he said, "I obviously want it to go global. I want it to be something huge."
Suleman grew up participating in youth groups and volunteering opportunities connected to his Islamic faith. He chose to study psychology because of the ambiguity; the major wouldn't restrict him to "one track." Even the most diligent planner couldn't have predicted the events of his final semester. "The main thing I'm worried about is just figuring out a plan, how to transition out of it. Cause I've never been in a pandemic in my lifetime," he said. "These types of restrictions are not normal at all."
He's living with his parents, who are immigrants, in New Jersey. They've been spending a lot of time together. His dad, who was laid off, has been naturalized like him, but his mom, who is a nanny and not currently working, has a green card. In a haze of months, President Trump's travel restrictions came, followed by his so-called temporary immigration suspension. "It's something that is like giving us a bit of a kick at the moment," Suleman said. "It just kind of puts us in that quarter of uncertainty. Like what if she wants to travel back home, and then when she comes back, she's denied entry next year, or something, because this policy just blows up or something?"
While some people dislike living with their parents, Suleman said they're learning more about each other right now. It's been a time for introspection and discussion.
"I think that's what's keeping stress levels not too high," he said. "I think we're making the best of what we have."
Diamond Hardiman, studying African American Studies & Political Science at St. Louis University in Missouri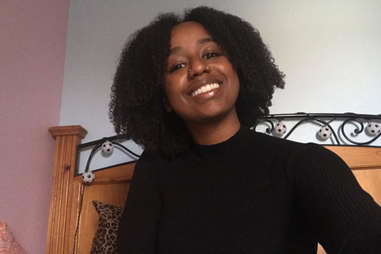 Diamond Hardiman was planning to pursue work in activism — but then the interviews stopped. "Our jobs would involve people-to-people interaction," Hardiman said. "So [employers] didn't really know when we'd be able to start that again." Hardiman is the first in her family to graduate from a four-year college, and she's been living with her parents in Colorado since her classes moved online.
"It's been very hard, probably for me and definitely a lot of other students who are Black or who are part of marginalized communities, experiencing this." Hardiman said. The virus has disproportionately affected Black Americans. Hardiman cited a political science term: linked fate, the idea that the collective future of people who share an identity is intertwined.
"I think that it's hard for everyone, but especially people who feel a deep sense of community," she said, adding that the inequities keep playing out. "We're not set up for a lot of people to succeed, and watching that play out every day in every single facet of society has been really taxing."
The connections often needed to kickstart a career would have been limited anyway, but she said they are especially lacking during an economic recession. "It's very hard for people to imagine what it's like to not have even started your life yet and to understand that there's going to be a lot of issues with even being able to start." She added: "Okay, I'm going to be financially unstable. Like, what do I do? I don't know."
When it's all over, Hardiman hopes this crisis will energize radical ideas in local governments — particularly for her focus areas of housing, prison abolition, or cash bail work — that grassroots activists have been pushing all along. But she's not naive. During a recent web seminar with activists Naomi Klein and Angela Davis, Klein's term "shock doctrine" came up.
"After something bad happens, a lot of really bad policies for low-income people get pushed through," Hardiman said, referring to Klein's analysis that people in power often promote pro-corporate policies after a collective shock like a market crash or war. She hopes to make sure that scenario doesn't happen, advancing policies like government funding for public health care.
"The ideas that are laying around are the ones that get picked up," she said.
Jessica Gilgor, studying law at Creighton University in Omaha, Nebraska
Jessica Gilgor came into law school with one working leg, and she's been joking for years that she planned to graduate walking out on two. She tore her knee and broke her ankle while packing for school.
"I showed up to law school with two plates and nine screws in my ankle, four days after surgery for orientation," she said. In her first months, she used a walker and wheelchair, had another surgery, and completed physical therapy. "[Graduation] was my light at the end of my tunnel," she said.
But then she found out that ceremonies, including the traditional "hooding" for law students, were going virtual. They might happen in real life in September, depending on the status of the current health crisis.
"As a first generation student — my parents were casino dealers, there's no real higher educational degrees in our family — to have that [accomplishment] kind of pushed aside until a later unknown, I-have-no-clue-when, nobody-knows-very-much information as to what the plan is… it's kind of a weird feeling."
Her boss at a small solo practice in Omaha, where she works as a law clerk, offered to hold something in the parking lot, reminding her "you're still going to graduate"— except without the "pomp and circumstance," as Gilgor put it.
As far as Gilgor knows, the bar exam will go on in either July or September, per the state's Supreme Court. But in-person practice has been limited in the courts, and she feels fortunate to have a job that's expected to last after she takes the test. "It's like sitting around, circling, not knowing if you're going to land this plane or not."
Campus staff and professors are trying to keep students engaged in an environment with an 80% attendance requirement — even by way of a "Dear Students" YouTube video — as they sit at home trying to learn the material. "I really just hope that it doesn't minimize everybody's feeling that they still did it," Gilgor said. "All the hard work wasn't for naught… We're just waiting a little bit more than most." She added: "I don't think anybody will look at us differently as graduates in this era and this situation to where it affects us in a negative way. I think everything going forward will be as it was, just a little bit different."
Sadia Elahi, studying supply chain management at Rutgers Business School in Newark, New Jersey
Sadia Elahi was becoming more established on campus. After two years at community college, she spent junior year commuting to business school and mostly assimilating. By senior year, she was on top: landed a leadership position in a club, made friends, and decided on a career in supply chain management. That transition to campus life was partly thanks to the business organization BASE (Business Association of Supply Chain Expertise), which her late professor Thomas York, who died last summer, encouraged her to join. Along with other students in the group — most of whom are also commuters — she found a path. But now, Elahi doesn't know when she'll actually see most of her peers again.
"You're kind of just left with no closure of college," she said.
Elahi was determined to keep the group going this year in the spirit of her professor's legacy. The group is event-focused and offers Excel classes and certification, as well as workshops for students to learn how to present in the professional world and solve problems.
"We do present in our classes, but we present projects that we worked on for, like, weeks ... on the spot: Here's a problem, solve it. Get up in front of people who actually work in the company, and explain yourself." It's hard to replicate that type of training online.
Back in March, Elahi went to a career fair in New Brunswick, roaming from table to table and giving her "elevator pitch" for supply chain jobs. She was searching for something in procurement, "which is kind of like negotiating," she said. She stopped at the table of a company in a town near her own and started a conversation with someone who was, unbeknownst to her, a vice president of that company. They connected, and she received an email for an interview "right before the pandemic shut down everything." She was hired as a procurement and logistics coordinator with a June start date.
On a big college campus, it can be hard to find mentors and a sense of community. Now, Elahi is leaning on her friend group and catching up from behind a screen, whether it's Houseparty, FaceTime, or WebEx. "We just talk ourselves through it. Talk about how hard it is."
German Flores, studying computer science at the University of California in San Diego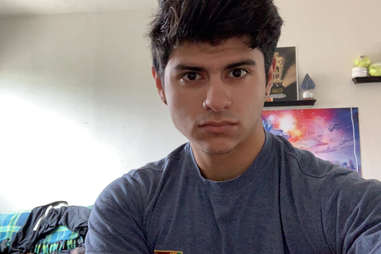 In design class, German Flores interviewed other students to figure out how they've been affected by the coronavirus-related disruptions. "Lab students are having the shittiest experience because they're not getting hands-on, in-person experience, and that's really bringing down the learning expectations." While his group wasn't focused on how people could access the tech, the students found that virtual reality would best enhance the learning experience of online labs.
Flores has spent his college career learning how to build and innovate. In a different project, he has been working to build a new platform for students to find opportunities, but his own process was stalled as school shifted to a remote environment. "As far as trying to get this off the ground, it's a little more complicated now because you can't just be in person," he said.
While Flores grew up in a nearby California town, he hasn't seen his family since February. Normally, he'd visit once a month and come back to campus with food from his mom: some beans and prepared meat to make sopas and tacos. His mother is at risk, he has a baby niece, and there have been at least a few COVID-19 cases on campus. "It kinda sucks because we FaceTime all the time, and they're like, 'When are you coming? When are you coming?' I don't think I want to go anytime soon."
He's the first in his family of three siblings to go to college, and he was looking forward to the ceremony. His mom had encouraged him to study, and he thought to himself, "I want to do this and get out." Now, he's not sure when he can come back to his hometown.
He'd been looking forward to a big tech recruitment fair this spring to get exposure to companies like Apple and Google; while he's signed up for another virtual career fair, it won't be the same. He can't plan very much, which is causing him anxiety as he looks for full-time work that doesn't require moving. "It's … a lot tougher to find jobs. I actually even downloaded Glassdoor...I don't even like Glassdoor." He added: "I would have to really stand out if I really want to get a job in the summer at a company... that really interests me."
Evelyn Bigini, studying nursing at the University of Pittsburgh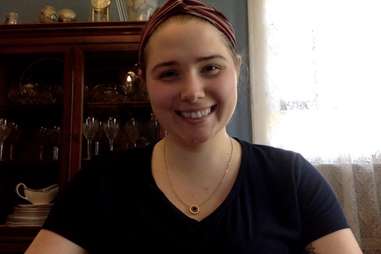 After studying nursing for years, it's hard to watch from the sidelines as a deadly virus ravages populations around the world. "If this pandemic had happened in another three months [from spring], most of us would probably be on the front lines right now," Evelyn Bigini said of herself and her fellow nursing students. "A lot of us have a lot of knowledge but are seeing everything from the outside."
Bigini was granted a Fulbright scholarship to pursue graduate studies in global health in the Netherlands starting in September. Back in March, she got an email that more information would come in two months; as of May, the Commission has sent a number of parameters, including certain travel advisory levels for a fall start date. "I don't know what other options are if they deem that it's not safe. I don't know if they would postpone it... yeah, I just don't know." In the meantime, she is still planning to take her certification exam in June and seek a pediatric nurse residency program after the Netherlands, if that happens. She's not applying for jobs yet, but she's keeping a lookout for places where she may want to work after returning to the U.S.
Stories from inside a hospital or the perspective of a health care worker, often nurses, are being shared in the news daily. While Bigini's perception of the field hasn't changed, its challenges have become more visible, marked by life-protecting gear: hazmat suits, N95 masks, and gowns. Essential workers including nurses have been portrayed as heroes. "I think sometimes nurses aren't seen as established or as higher up," when compared to physicians, she said. "I think it shows a lot about the healthcare industry in general and kind of how doctors and nurses and everyone in the field are people."
With the health care system in total flux — and the devastating effects of poor preparation for a pandemic laid glaringly bare — entering the field at this exact moment carries heavier implications. "There's a dual feeling of being scared, but also thinking like, 'oh well, I went into this profession to help people,'" Bigini said. Adapting as a new graduate can already be hard under even the most typical circumstances. "During a time when the health system is overrun and underfunded and underprepared and everything, I think that that is an additional challenge."
Watch "Graduate Together" live on Saturday, May 16, at 11 pm EST on our Facebook page.